What is Customer Service Outsourcing?
Customer service outsourcing involves engaging a third-party vendor to manage customer support for you so you can prioritize core business processes. Their responsibility is to provide services and experiences your customers demand.
The pandemic has caused businesses to rapidly change their approach to providing services, causing an upswing in outsourcing. Outsourcing customer service maintains quality customer experience and responsiveness while eliminating overhead costs. It offers direct access to highly qualified teams knowledgeable about the latest technology and techniques and resolves issues faster. 
But, selecting an exemplary customer service provider includes considering their values, culture, skills, and experience. Before even planning to hire, remember that the vendor you work with is an extension of your business and is you in the eyes of your customers.
Benefits of Outsourcing Customer Service

Why do companies outsource customer service? 
Outsourcing is a customer support strategy to inspire customer loyalty and business growth. Here's a list to show you a better perspective on the benefits of outsourcing customer service.
One of the main reasons businesses avail customer support outsourcing services is to save money. Outsourced customer service companies have ready-to-deploy teams to handle customer needs, provide adequate coverage, and streamline processes to maintain efficiency without trial and error.
Hiring an in-house team requires considerable investment and resources to train and provide office space and equipment.
Increased Customer Experience 
Opting for customer service outsourcing gains you the flexibility to meet evolving customer needs. With an outsourced customer support team that has skills and expertise, you can efficiently manage high volumes of support requests and maintain customer service response time.
Experienced customer service companies can consistently provide high-quality customer service across all channels.
Increased Scalability and Flexibility 
Outsourced customer support services can scale operations rapidly according to current and projected business needs. Outsourcing customer support is flexible in handling in-season volumes or downsizing to enhance production and decrease cost.
Access to Specialized Expertise 
Outsourced teams have the technical knowledge to navigate the software and deliver effective solutions to the consumer. Customer service outsourcing companies are highly specialized in following the best practices in customer support service, allowing you to focus on your company's core mission.
Focus on Core Competencies 
Delegating non-main tasks to third-party companies frees your in-house team to focus on core competencies. With an on-demand economy where customers have grown accustomed to instant gratification, customers expect to receive resolutions to their concerns immediately.
Key Factors to Consider When Choosing a Customer Service Outsourcing Partner

One of the main advantages of outsourcing customer service is attracting business; however, the key to delivering outstanding support is to know how to choose a reliable outsourcing partner.
Relevant Experience and Expertise 
It is essential to evaluate companies that outsource customer service on their skill set, knowledge of the latest technology, problem-solving skills, and passion for the project.
A team with relevant experience and expertise can manage customer queries and complaints effectively and quickly, increasing customer satisfaction.
Availability of Resources 
The availability of resources indicates that your customer service provider can quickly scale up and down to meet changing business needs. This gives the ability to provide consistent 24/7 customer service during peak hours. Adequate resources enable the customer service company to respond quickly, reducing wait times and providing other types of support such as email, chat, and social media. 
Quality Assurance and Monitoring Process
Before outsourcing customer service, ensure that the provider's quality assurance and monitoring process can meet the level of proficiency and service quality you require. A robust quality assurance and monitoring process can help identify areas that need improvement for better service in the long run.
Cultural Fit and Communication Skills 
One of the crucial factors in customer support outsourcing are the outsourced company's practices and values, including whether both align with yours and if their employees are thriving in a healthy workplace environment.
Expectations between you and the customer support agency should also be properly communicated to build trust and transparency.
Security and data protection measures  
Protecting data and sensitive information is paramount in outsourcing. Customer support outsourcing requires compliance with legal and regulatory security measures because they handle personal and financial information. 
Data security measures include obtaining an ISO certification and a third-party seal of approval given to businesses dedicated to enhancing the quality of their services. The ISO (International Organization for Standardization) strives to assist companies in increasing growth and profitability by streamlining business processes. Other security measures include bandwidth monitoring and employing trained IT professionals. 
Evaluating Potential Outsourcing Partners 
Choosing the right partner among companies that outsource customer service can yield high-quality results at a lesser cost. A reliable partner can bring a wealth of knowledge and experience to complex projects leading to increased productivity within a shorter time frame.
Here is a to-do list for evaluating potential outsourcing partners.
Researching and Shortlisting Potential Partners
Researching multiple companies and comparing their pricing and expertise will allow you to work with the best-fit customer service agency.
Review these companies' portfolios, client reviews, and case studies to evaluate further and determine if they have a proven track record or have any history of poor service. You may also shortlist based on your budget and requirements. 
Conducting Due Diligence and Background Checks.
Selecting a customer service company should include assessing its market position, track record with competitors, media presence, and preferences. Conducting due diligence in legal compliance, data privacy, and security breaches, if any have been reported. These must be considered before working with any outsourced company.
Requesting and Evaluating Proposals and Referrals
Ask your outsourced company's previous clients about their experience working with the company. This is a great way to determine their client's satisfaction rate and existing contracts with other companies. 
In addition, requesting proposals provides a list of services and pricing information, letting you compare budget costs. It also provides a basis for their qualifications, capabilities, and customer service processes.
Conducting Interviews and Site Visits
Conducting interviews informs you if the outsourced company's culture aligns with your business values and if they are skilled enough to handle your unique customer needs. 
Site visits let you know the workplace infrastructure, environment, and atmosphere. It is also an opportunity to learn more about the company's security measures and how they handle sensitive data securely.
Contract Negotiation and Management
Negotiations are the basis of a business deal. During contract negotiations, both parties make concessions to secure a favorable outcome. By reaching a mutually favorable outcome, both parties reap benefits from the relationship and prevent future conflicts.
Contract Negotiation and Management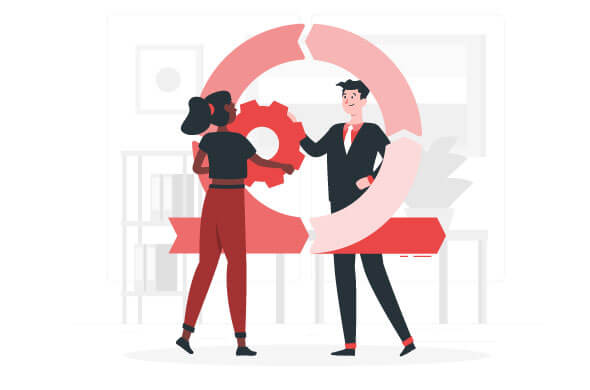 Contract terms protect all parties involved by detailing all deadlines and compensation. The details include payout terms, the amount of money, and the parties' rights. Here are the key contract terms you should consider:
This is a detailed description of the project and its scope. 
The service description includes the Request for Proposal (RFP), a formal document enabling you to invite potential service providers to submit proposals addressing your outsourcing needs. 
The RFP should include:
All service requirements.

Explanation of each element of the required services.

General service criteria, such as compliance with international standards.

An all-encompassing clause that outlines functions not mentioned in the but is an inherent aspect of the services provided.

Service Level Agreements and Performance Metrics
Service Level Agreements (SLA) and performance metrics set a specific quality benchmark for providing beneficial services for both parties.
SLA metrics measure a company's performance at a certain point, while performance metrics measure the businesses' progress toward a specific goal. 
Aspects you can mention in this portion are:
Milestone dates and contractual penalties if the service provider fails to meet them

Compensation for poor quality service

Detailed processes to request contract changes or reviews from either party

Defining whether the outsourcing is authorized to subcontract certain services

Relevant Key Performance Indicators (KPIs)
Monitoring and Reporting Requirements
Monitoring your outsourced team's progress through reporting is crucial as it helps provide necessary corrective measures. 
Reports also allow you to monitor the following:
reporting duties

frequency of audits

procedures for addressing disruptions in service delivery

heightened monitoring if service fails below the agreed standards
Monitoring and reporting requirements can identify potential problems and resolve disputes without litigation.
Dispute Resolution and Termination Provisions
If the outsourcing deal does not work, your contract should contain an explicit exit clause. A dispute resolution can help you sidestep complicated legal issues through mutual agreements and negotiations, while termination terms allow you to regain control of the outsourced service. 
The termination clause should include:
returning business assets and equipment procedures

liabilities for canceling

penalties for the service provider for non-performance

handling of IP after termination 
Continuous Improvement and Innovation Initiatives
Mentioning constant improvement and innovation initiatives in your contract motivates the outsourcing company to seek opportunities to enhance its service quality and efficiency. This is to facilitate the introduction of new technologies and methodologies that can improve customer service satisfaction and lower costs. It demonstrates your commitment to excellence and willingness to invest in ongoing improvements, helping you stand out in a competitive market.
Best Practices for Successful Customer Service Outsourcing

Establish clear communication channels and expectations.
Open and transparent communication ensures both parties are on the same page, especially regarding service requirements and KPIs, to prevent service disruption delays and customer dissatisfaction. 
Clear communication channels and expectations help monitor the outsourcing company, provide feedback, and ensure they meet contractual obligations. 
Provide comprehensive training and support.
Comprehensive training can provide the outsourcing provider with an understanding of your values, culture, and service expectations. Training and support equip them with skills and knowledge to handle complex customer needs and to stay up-to-date with the best practices in customer service.
Regularly review and monitor performance.
Reviewing and monitoring performance ensures the outsourced company meets SLA and performance metrics to identify areas for improvement and possible issues. Monitoring performance promotes transparency and accountability, reinforcing the outsourcing company to maintain high standards.
Maintain a collaborative and strategic partnership.
Working together rather than pointing fingers and assigning the blame lets your outsourced company better grasp your needs and requirements and better their services. A collaborative and strategic partnership fuels the service provider to bring new ideas and practices leading to innovative solutions and continuous improvement.
Continuously evaluate and adjust the outsourcing arrangement.
Evaluating and adjusting your outsourcing arrangement guarantees your outsourcing provider is at pace with your growing business needs and goals. Continuously updating your outsourcing agreements means you are up-to-date with industry developments and take advantage of new opportunities. It also prevents compliance issues and data breaches. Updating and adjusting arrangements help in the renewal negotiations and bargaining leverage.
Kick-start Your Offshoring Journey
At its core, outsourcing helps businesses keep up with customers cost-effectively without risking experience and quality of service. Outsourcing is an expansion strategy for businesses that need to focus on core tasks. 
However, choosing the right outsourcing partner can be a challenging task. The right company must adhere to your culture and values, have relevant skills, meet your service requirements, rapidly upscale and back, and maintain friendly, helpful, and effective customer assistance.
Now that you know how to outsource customer support and how to look out for the right partner, it's time to put the information to use.
Unlock high-end customer service without breaking the bank. Partner with New Media Services and supercharge your customer support outsourcing services with a dedicated team of experts known to deliver top-notch support tailored to your business needs.
Revolutionize your customer service. Contact us!