Who
We Are
New Media Services specializes in delivering intelligent outsourcing services through a combination of machine learning and human-powered activities. We are able to help improve the productivity of your business by providing affordable options and smart customer support services which also help to dramatically improve your bottom line.
What
We Do
We provide you with world class back-end services including an intelligent machine learning communication solution, messaging systems, moderation, live chat, virtual assistants, a robust SMS-based calendar management system as well as voice, email and text based customer support. Our flexible and scalable solutions ensure that we can fit any business' needs.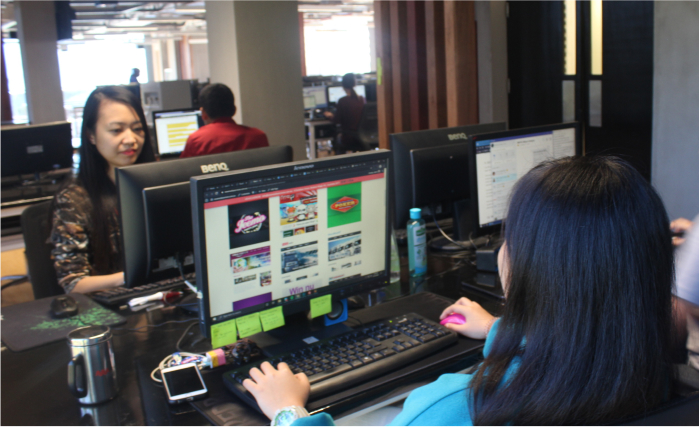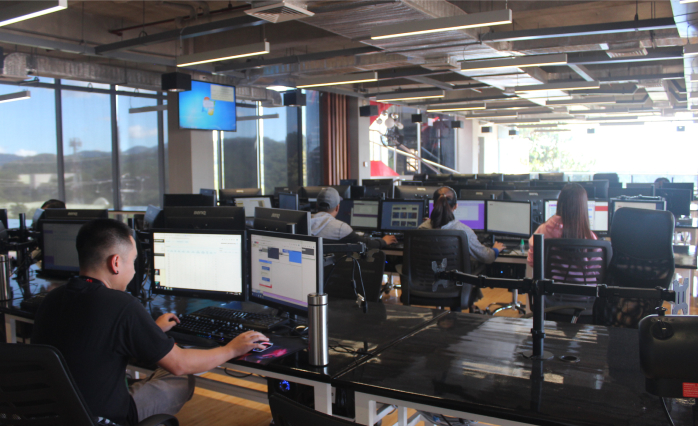 How
it Works
Get the New Media Services advantage on any of our services by connecting with an NMS representative through our contact form found below, specify what kind of outsourcing support you need and then we'll take care of the rest!
Our Mission
At New Media Services, we aim to conquer the impossible. We pledge a commitment to teamwork between our staff and valued clients to ensure the growth and success of everyone involved. Our intelligent outsourcing services provide growing businesses with the support and expertise that increases their efficiency and improves their bottom line
Our Story
In 2007, Martin Eyking established New Media Services with only 5 staff handling basic consumer-messaging. Over the ensuing years, NMS have become experts across a wide variety of Business Process Outsourcing solutions including intelligent machine learning communication services to ensure our customers are totally taken care of. We now stand proudly with 2,000+ staff globally and have not stopped growing since we began. Today, the services we provide continue to empower businesses around the world to grow in tandem with NMS and perform at their absolute best.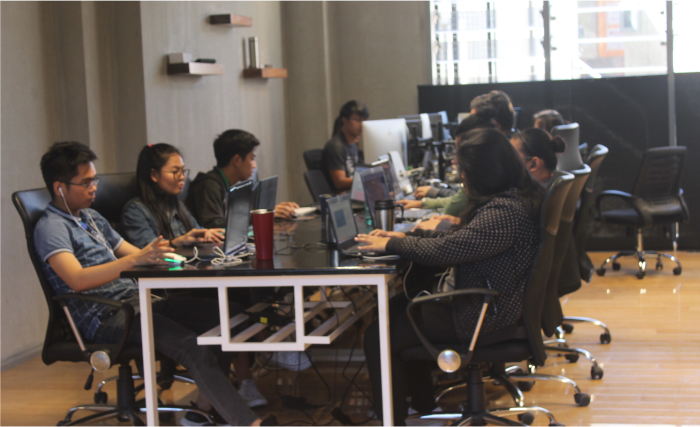 MEET
Our LEADERSHIP
New Media Services specializes in delivering intelligent outsourcing services through a combination of machine learning and human-powered activities. We are able to help improve the productivity of your business by providing affordable options and smart customer support services which also help to dramatically improve your bottom line.
Martin Eyking
Founder & CEO
Martin Eyking, the Founder and CEO of New Media Services, was born and raised in Beverwijk, The Netherlands. He left The Netherlands at the young age of 17 with a chefs qualification under his belt and took on the world. 28 years later, the idea of New Media Services came to fruition. In those 28 years, there were many business ventures, career changes and ups and downs. Martin is a man known for his tenacity and direct nature, leading to the success of New Media Services.
In 2020, Martin lives in Melbourne, Australia, with his wife of 25 years, 3 kids and 3 (crazy) dogs. He runs the business from his home office with multiple trips to the USA/Europe and The Philippines throughout the year to work alongside his staff in their new state of the art office in The Philippines and to meet with international clients. When Martin is not working you can usually find him playing golf, scratching his head over puzzles or riding his motorbike to the local cafe for his daily coffee.
Martins hard work and determination has led him to where he is today, however New Media Services would not be possible without the incredible team of executives, managers and team members.
Rafael Nacionales, Jr.
CEO Global
Rafael Nacionales, Jr., sitting as the Chief Executive Officer, leads a team of six executives who attend to the operational needs of the Company and its people. His mantra of leadership is to lead from the front.
He is a lawyer by training. Before joining New Media Services, he worked in litigation and held professorial chairs in Constitutional Law, Criminal Law, Remedial Law and Family Law. He holds a bachelor's degree in Political Science and master's degree in Public Administration.
Atty. Raffy, as fondly called by his colleagues, savors his personal life by travelling, reading and gardening.
Venturing from an entirely non-business background to the competitive, finance-driven and volatile world of business, he has been guided and sustained by the philosophy that for one to truly grow, he must chart the travails of the unknown and the uncertain, learn it, labor on it and excel on it.
Ingenuity, tenacity and excellence are his trifecta of success. With this, he is now rolling up his sleeves for the arduous task of making New Media Services a global leader in BPO services and a partner of its clients for mutual business growth.
Anastasiia Bilous
COO Europe
Anastasiia Bilous, COO Europe, handles the overall management of NMS Europe and the implementation of all its strategic business decisions focused within the online entertainment and dating industry globally.
Anastasiia has been with the company for three years. Prior to that, she spent almost 10 years managing as COO an international asset management firm with the HQ in Menlo Park, USA with the main focus on the projects in the next industries: SocialComm & Messengers, Dating & Biz Networking, B2B Management Tools, MedTech.
Anastasiia Bilous graduated from Braunschweig Technical University, Germany with a B.A. in Business Administration. She is a proud Partner at Startup Networks Switzerland. She also serves as an Advisor in Machine Learning powered project "Bicovery" for Bipolar people for the last two years.
In her spare time Anastasiia is a speaker at International events, leads her columns in major IT news sites in the world and busy with fundraising for the Ukrainian animal shelter "FRIEND".
Anastasiia is a strong believer that it's crucial to keep asking right questions and to look for simple answers/solutions to them
Anastasiia works with each client and each partner as with her own business and thus delivering a strong product, approaching marketing & sales with the best value for it's money and deep data & financial analysis is the priority #1.
Stephanie Walker
Product Manager, NMS Productions
Stephanie Walker, NMS Productions Product Manager, is based in Melbourne and responsible for creating and growing relationships with clients as well as developing strategies to identify and meet customer needs in the digital content moderation field.
Stephanie started with New Media Services in 2020 and is excited about bringing great value and service to clients for many years to come. Prior to that, she spent 7 years in Recruitment and HR for one of Australia's largest recruitment companies, and several years working to build her own business. Throughout this time she also studied Business at Swinburne University with a strong focus on marketing and management.
In her spare time, Stephanie loves to read both fiction for enjoyment and anything related to the ever-changing field of digital marketing and promotion. She believes in the power of a strong inspirational quote and her favourite is, "You miss 100% of the shots you don't take," because it applies so readily to both business and life. Her previous experience in starting her own business gave Stephanie the opportunity to gain a great understanding as to how important it is for businesses to be able to workwith trusted companies such as NMS who offer a high level of care and attention to ensure their client's success is the ultimate goal.
Mike Loewe
Business Development Manager
Mike Loewe is the Business Development Manager, a new business unit of New Media Services who will be responsible for driving sales and marketing. Has worked in the online marketing and operations space for over 20 years.
Mike has lived and worked in Asia, Australia and Europe but now resides in Tampa, Florida with his wife and their two children.
Favorite quote - Do you want to be someone or do something? - John Boyd
Mike is developing a customer centric service that will minimize missed appointments which cost every business time and money.
Merlene Leano
Director of Marketing
Merlene Leano, Director of Marketing handles all marketing activities and customer relations both for new and existing ones. Chique, as what she prefers to be called, has been with the company for 12 years now.
A street-smart employee with an adaptable mindset, she ventured into self-development through online trainings and continues to do so up to the present.
She loves traveling together with her son during school break. Traveling is their way to breakaway from the stress of daily life.
Merlene believes that the challenges a person is facing are there to make him/her even stronger. Because of this, any hindrance or obstacle on her way to her goal will just be a piece of cake to overcome.
She fully embodies the mission of the company through the many successful activities she has handled since. Merlene is determined to be the best in her craft bridging customer to the company's quality services.
Sheena Mae Fianza
Director of the Client Support Service
Sheena Mae Fianza, the Director of the Client Support Service Department, handles and oversees the day-to-day operations of various services. These services include Social Media management, Profile and Content Moderation, Customer Support, and Lead Generation to name a few.
She has started her journey in New Media Services in January 2012 as a call center agent. After four years in the company, she made her way up in the higher rank as Director of the Client Support Service Department, with her sturdy drive for excellence.
Sheena enjoys the company of her two kids on the weekends, and spending time with her family is the only hobby she thinks matters.
She preaches that every project is a self-portrait of oneself and that the team should always sign their work with excellence.
Her method of leadership puts premium emphasis on the holistic growth of her staff for them to perform according to the standards of the company. The grounds on which Sheena was able to build and foster a culture of sustained excellence within her department and beyond. Sheena gears for numerical growth, but she also ensures that the team grows as well and that the company's core values are well inculcated.
Jardeneil Dacyon
Director of Global Operations
Jardeneil Dacyon, is the Director of Global Operations. Develops and executes strategic plans to meet the company's short-term and long-term goals. Collaborates with the managers of different teams from different locations around the world to ensure everyone is on the same page and that they aim for the same goal.
Jardy, to his peers, has been with the company for more than 3 years. Before working with NMS, he was a Contractor for 2 years for one of the biggest mining companies in the northern region of the Philippines. He also had a 7 year stint in the BPO industry.
A father of 3 adorable kids, who he loves playing with during his spare time. He is an avid motorsports fan. He mostly follows F1 and Motogp and dreams of one day be able to participate in an amateur race.
He has a Bachelor's Degree in Information Technology. But has more experience and expertise in People Management. He believes that a right decision is the result of a number bad ones. Do not expect to get things right the first time all the time.
Jardy, promotes Continuous Performance Improvement to ensure that efficiency and productivity is at its best to benefit both the company and the clients' interests.
Karlo Aguilar
Director of IT
Karlo Aguilar, Director of IT, handles and oversees multimedia, design projects, and in-house applications. He started with NMS since its inception and has progressed with the company.
Karlo is a visionary. Passionate about branding, spatial design, minimalism, UX, data analysis, automation, his creativity & strong imagination helped enable many ideas to come to life.
A natural pathfinder, with his wife and two boys, they enjoy exploring bizarre places that are less traversed as an unconventional way of learning.
He believes that the worst enemy to creativity is self-doubt.
Inherently curious with art & technology fusion, with the backing of his team, they forge to delight clients to deliver top-notch projects.
Ronalyn Salasa
COO Philippines
Ronalyn Salasa, COO Philippines, is responsible for handling the overall operations of NMS Philippines. Together with her team, the goal is to secure the functionality of the business to spur growth and increase the efficiency of the company.
She is a Certified Public Accountant and holds a Juris Doctor degree. She started in NMS as an Accounting Manager. Prior to working with NMS, she was the Head of Accounting at a hotel in Baguio City and she also worked as a Financial Analyst at SGV & Co., the largest accounting and audit firm in the Philippines, a member practice of Ernst & Young Global Limited.
She is family-oriented, goal-oriented and ambitious. Her family is her driving fuel. She loves to travel, explore the world, and most of all, explore life. Adventure is her cup of tea.
She agrees in the statement that "Your work is going to fill a large part of your life, and the only way to be truly satisfied is to do what you believe is great work. And the only way to do great work is to love what you do.
Virginia Gahid
Senior HRD Manager
Virginia Gahid is currently the Senior HRD Manager overseeing all aspects of human resources and development management of full-time employees.
Before her time in HR, she worked for over a decade with NGOs in various roles and managerial capacities including NMS Cares, Inc. NMS' charitable organization that helped local families with deaf members. As a development worker she was responsible for understanding issues affecting marginalized groups, assessing situations and devising ways for making improvements that collectively affect them and their own community. This profession allowed collaborations with people in communities, inspiring them, supporting them, and offering them guidance and opportunities for initiating social change. These experiences, and her formal learnings and training in Entrepreneurial Management, Education and Sustainable Development Management are what she brings to her current designation.
Passionate about people, she makes sure the most important resource- "human" feels valued and given importance in the company. Also, given attention and commitment by the management as much as other aspects of the business in realizing success and resilience.
Caryn Bangsoy
Senior Manager for Finance and Admin
Caryn Bangsoy, Senior Manager for Finance and Admin, handles all things money and company support for New Media Services. Her department might not be the one that brings home dollars but she believes that a solid team working on the backstage of operations is also a pillar to the company's overall success; and together with her elite crew, they make that happen.
With her degree in Finance and license in Public Accounting, she was able to gain a well grounded experience in managing a team and providing accounting services to various clients including start-up and established companies. These qualified her to become part of NMS way back in 2020 as an Accounting Manager.
When not busy replying to emails or skype DMs, clicking around Quickbooks and spreadsheets and fidgeting on her pink calculator, she spends most of her time binge watching tons of movies and then… more movies. For her, a good weekend is a sleepy, uneventful weekend.
A friend, a mentor, a colleague and at times a hyperactive troll raging up and down the four floors of PH headquarters, she continues to hustle hard as part of NMS family.
Ian Dela Cruz
Customer/Client Experience Manager
Ian Dela Cruz is our Customer/Client Experience Manager handling a team focused on Account Management for internal and external purposes. Externally, Ian and his team are the faces and personalities that deal directly with Clients on various levels like pricing, agreements, growth and overall delivery of client-required targets. Internally, he and his team coordinate with all departments in terms of manpower, deliverables, management, costing, as well as product and service development.
He started in NMS back in 2010 when the company was in the stage of humble beginnings. Ian was hired as a writer-editor and through the years, has handled various roles in App Management, Client Relations, Training, SEO and Content; also moving up to serve as the Sales Head and then Production Head.
In previous careers he has been an educator, worked in events management, BPO and had a newspaper column. Needless to say it's been quite a long and winding road for Ian.
Ian has a very close family-oriented homelife. In his rare off-time, Ian enjoys writing, photography, social media content creation, music, cooking and is an automotive enthusiast.
He believes that nothing worth having comes easy. This philosophy ties up to his very vocal and often critical nature. He encourages his team to be the same, since the worthy goals require proper communication and constant analysis. Although at times, failure is unavoidable, the lessons learned make any success so much more meaningful.
Silvia Urban
HR Manager
Silvia Urban, HR Manager, is now based in Greece but she was born and raised in Milan, Italy. She is responsible for hiring process of freelancers that speak many different languages all over the world. She is also responsible for creating a healthy and welcoming work environment, addressing the daily challenges of working with people who are located in every corner of the planet. Considering that all the freelancers are working from home, without the possibility of daily interfacing with colleagues, Silvia creates support initiatives for collaborators so that everyone feels an active and fundamental part of the company. Silvia started with New Media Services in February 2018 and she is excited about bringing great value and service to the company, the colleagues, the clients and the freelancers for many years ahead. She is a talented and strongly motivated to pursuit the best for the company and the clients. She spent many years between Milan, Middle East and London, working in the HR and Business Development field. Silvia studied psychology and social science and she always focused on the individual and unique value that every person can bring into the company: everybody is equally important, no matter what is the role or the tasks. In her spare time, Silvia loves to read, to spend time with animals in the nature and to listen to rock music that is an inspiration to work hard everyday and with a lot of energy.