There is no justification for discounting this fact, yet the call center market is growing increasingly competitive. If you are running your business without the appropriate personnel and resources, you run the risk of losing the loyalty of your customers and, even worse, falling behind your rivals in the industry. As such, you must find an effective solution quickly—starting from scratch is not an option.
Thankfully, you can resolve this pressing issue by teaming up with a business outsourcing partner.
Outsourcing is no longer regarded as an option, but rather a vital condition for thriving and excelling in their chosen sector. This is especially true for businesses aimed toward offering various types of customer service. Outsourcing allows such organizations to obtain a better footing to face any niche-related problems that may develop in the future, especially now that we live in a corporate environment where enterprises must try to exceed all standards, quality, and suitability.
Additionally, working with a third-party provider to manage an organization's client help desk operations comes with a wide variety of merits, especially in terms of expenses, such as cutting costs on possible expansion, hiring in-house manpower, and training resources and facilities, among others. 
However, knowing outsourcing's multitude of advantages is the easy part. What's the hard part? Perhaps you've already guessed it by now; choosing from the almost never ending list of the best customer service outsourcing companies.
For companies looking to outsource customer service, coming up with a decision as to who to choose as their ideal contact center solution provider can be a daunting feat. The good news is, we've done the research and curated the best customer service companies in the market right now. In no particular order, here are the top ten companies for customer service to help you choose the ideal solution provider to ensure that your customer care operations are of the highest quality.
Top Customer Service Outsourcing Companies
1. New Media Services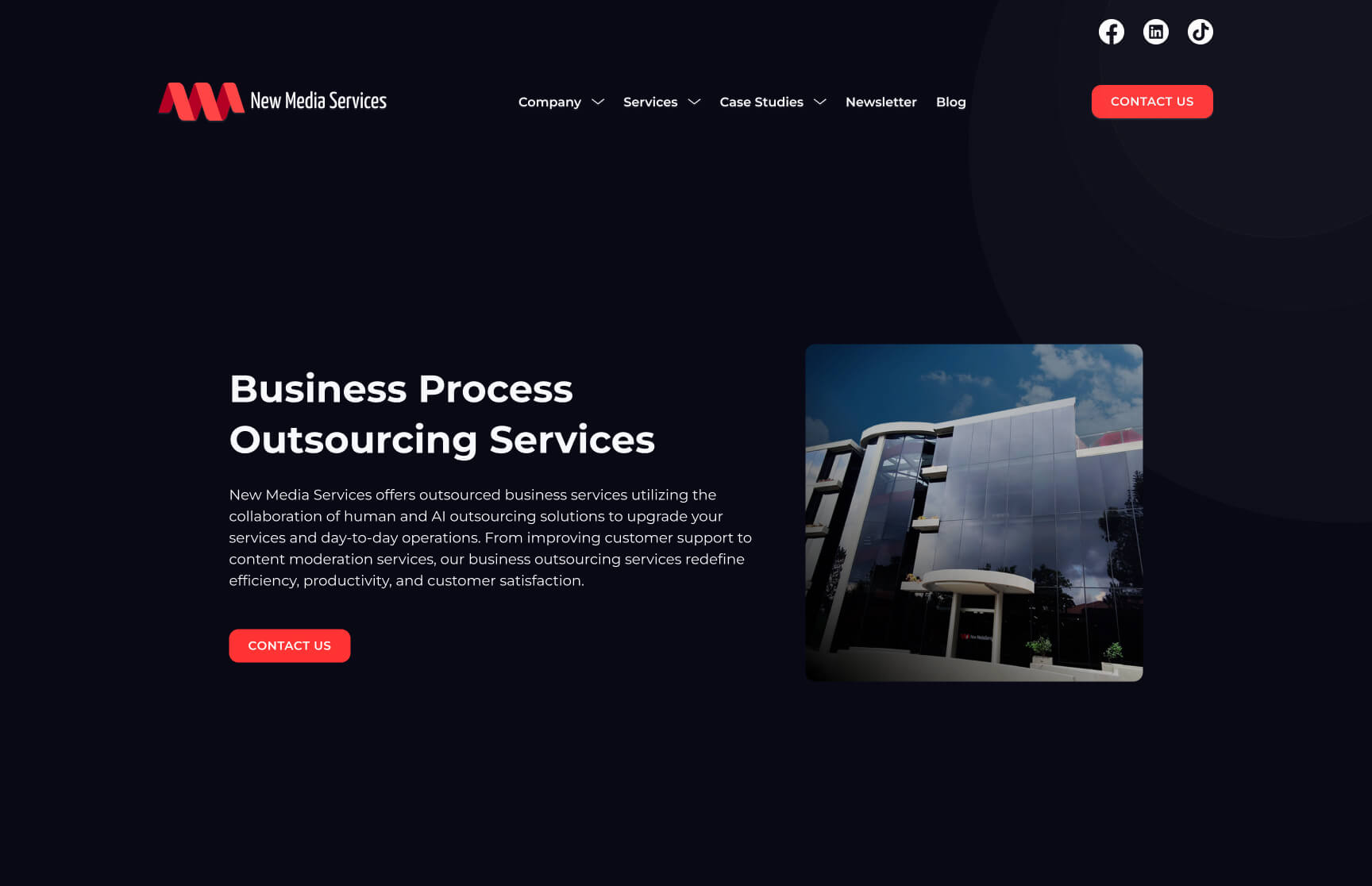 New Media Services, also known simply as NMS, is an Australian customer service outsourcing company that specializes in delivering a wide array of custom-made, round the clock business solutions. These solutions include content moderation, chat operator services, and customer support services, among others. Their impressive portfolio of client help desk solutions includes, but is not limited to:
Multilingual call center services - NMS grants access to a pool of exceptional call center agents with multilingual capabilities to ensure that your business stays competitive in the international market. 
Live chat services - NMS takes pride in their innovative live chat solutions that go above and beyond clients' expectations. Their live chat support services are integrated with high-end features and technologies to help firms build loyalty among customers and boost engagement and acquisition rates.
Email support services - NMS also provides a cloud-based reply tool to help businesses augment their after sales customer care operations and strengthen their ties with their clientele.
Inbound Call Center Services - They also offer an all-inclusive solution that guarantees none of the support tickets will go ignored. The service includes its own tools and software to ensure that your customer service representatives provide timely and accurate responses and resolutions.
Technical Help Desk Support - New Media Services employs agents that are able to take on more technical concerns such as basic to complex troubleshooting, diagnosing software and hardware issues, providing installation assistance, and other relevant bugs and glitches.
New Media Services has established itself as an ideal third-party solution provider, having been a pioneer in the business process outsourcing industry for almost 14 years and employing over 3000 people across Australia, the Philippines, Europe, and the United States. If you are looking for a business partner who can provide cost-effective and individualized call center services, you should consider working with New Media Services.
2. Teleperformance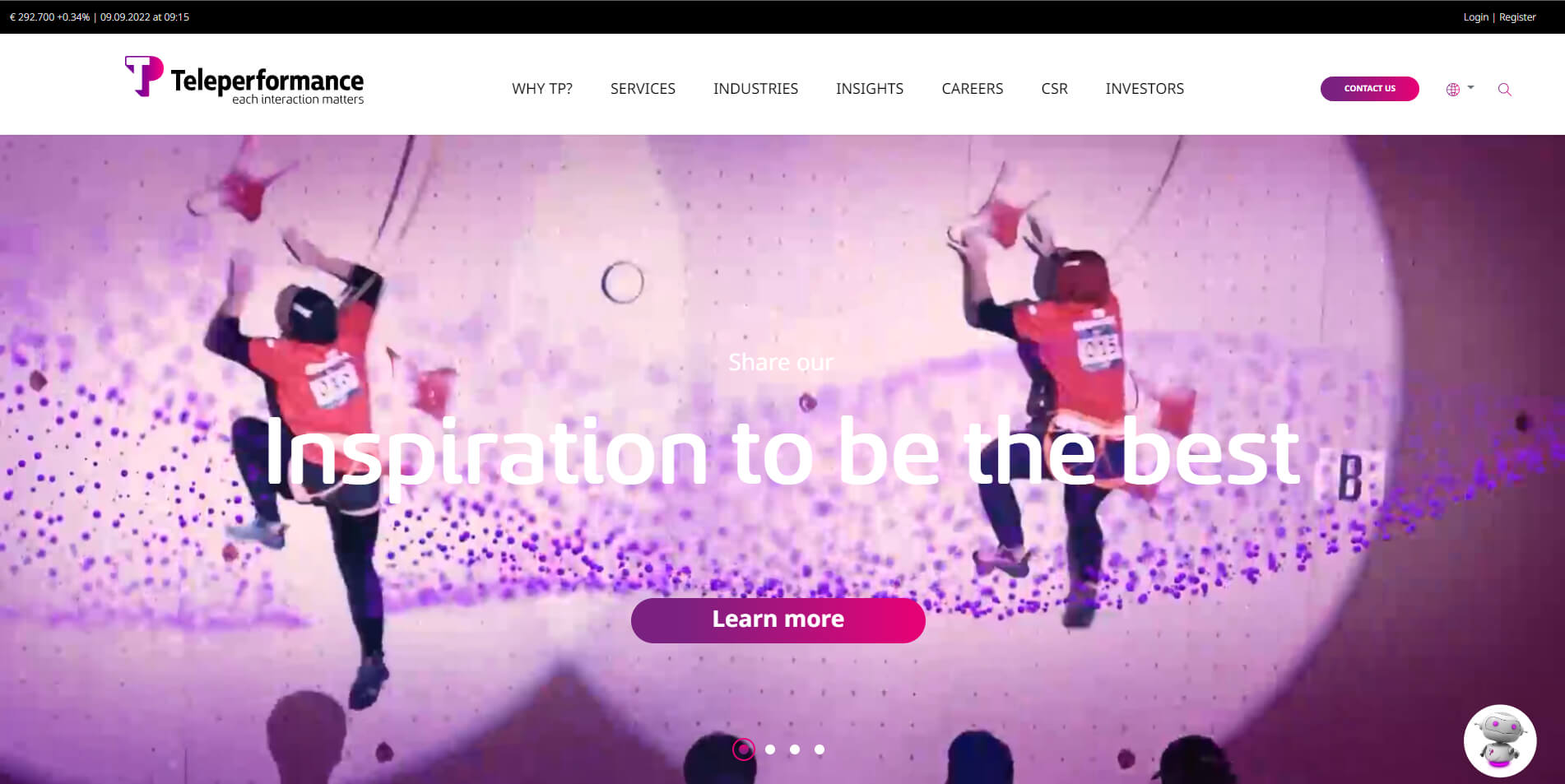 Teleperformance is another excellent contact center company that was founded in France and is mostly focused on providing omnichannel customer service. This call center firm provides customer service over a wide variety of communication channels. Some of these channels include email, social media, and voice over IP, to name just a few examples.
Teleperformance has already expanded to 400 locations across the world and covers more than 30 languages. In addition to customer service, Teleperformance offers a comprehensive selection of outsourced options to accommodate all business models. These choices include social media management services and phone-based call center assistance. A number of well-known companies, like H&M and Amazon, have utilized the services of this mammoth call center.
3. Callbox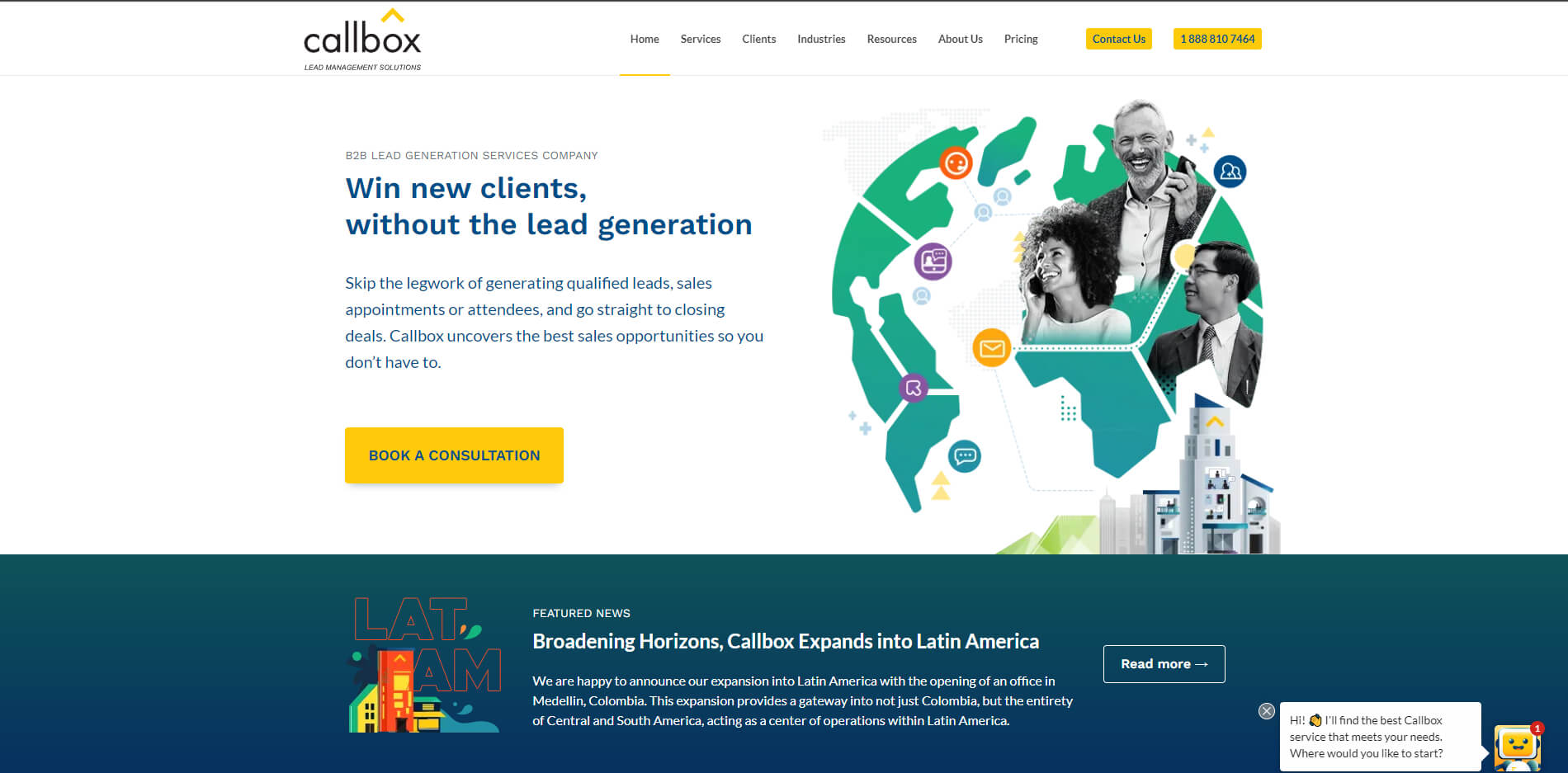 Callbox is a call center outsourcing company based in California that focuses on assisting B2B organizations in achieving long-term stability by providing a variety of lead generation, appointment setting, and data-related solutions. Callbox's primary area of expertise is in assisting B2B organizations. Their expertise extends across a diverse range of sectors, including, to name just a few: the healthcare sector, the real estate industry, the retail sector, the financial sector, and the technological sector.
Callbox is a company that takes pride in the fact that once they have been hired by a customer, they are able to boost the number of leads created, streamline the management of pipelines, and establish databases. One component, known as the Callbox Pipeline, makes this accomplishment doable.
4. Helpware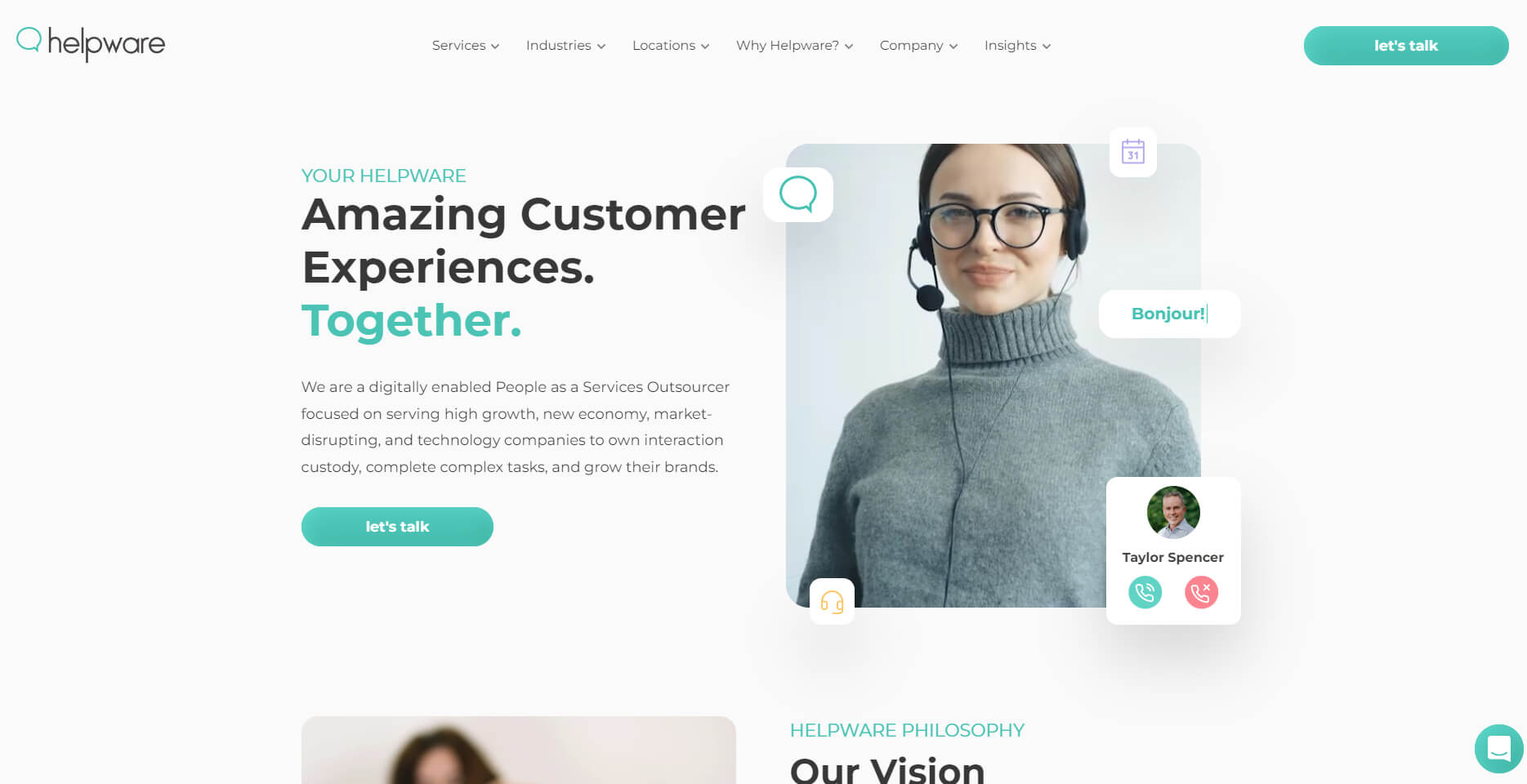 Helpware has been at the forefront of introducing novel approaches to the outsourcing market since 2015. One of their primary skills is the ability to build flexible and scalable teams with the goal of providing the best customer support and back office services for SMEs, industry leading corporations, and modern startups operating in a variety of different industries. Their background includes a variety of fields, including e-commerce, information technology, and healthcare. They do this by offering cost-effective outsourced services such as customer service, call center services, and back office outsourcing to their clients, which in turn helps improve their clients' customer care operations.
Helpware originated as a customer support service provider that catered mostly to startups. Since then, the company has expanded into client collaborations with some of the most recognizable organizations, such as Zendesk, Cisco, and Google.
5. Simply Contact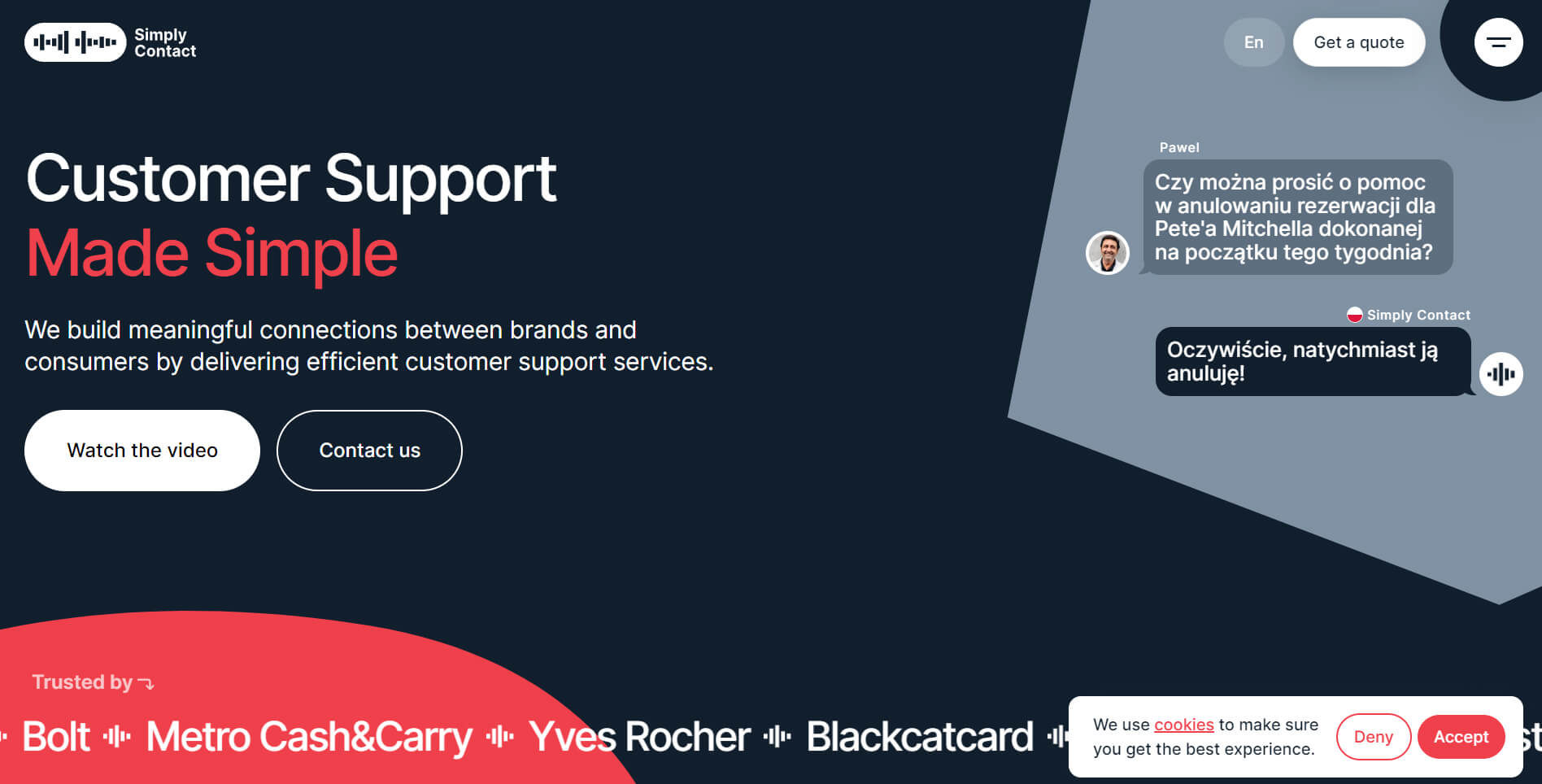 Simply Contact is an industry-leading provider of multilingual and multichannel customer support desk services to markets all over the world. The company's activities are based in Ukraine and Poland. Their goal is to simplify the process of providing customer service for businesses of all sizes by providing efficient contact centers that are driven by key performance indicators and can communicate in more than 20 languages. Their range of services covers a variety of domains, including government work, leisure and hospitality work, and information technology.
Simply Contact's omnichannel approach enables their clients to communicate with their customers over a multitude of channels, including social media, messaging platforms, phone calls, chats, email, and conversational bots. In addition to this, they make certain that customers have access to knowledgeable customer service representatives who are able to deliver personalized customer care by communicating with customers in the languages spoken in their respective regions.
6. Uassist.ME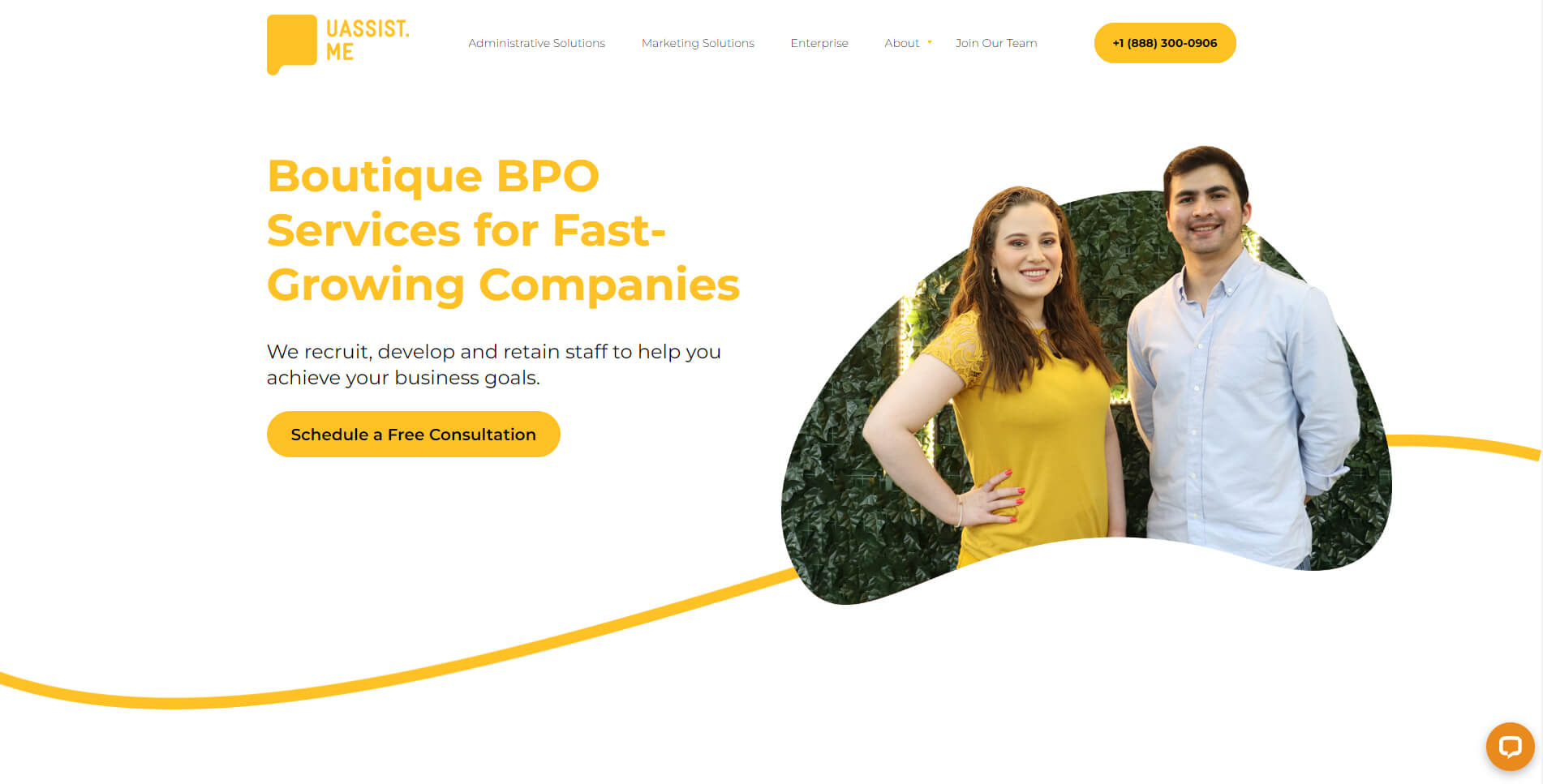 With over 12 years of experience in the provision of business outsourcing and virtual assistant services, Uassist.ME is an ideal outsourcing partner for rapidly expanding organizations. Their remote workforce is composed of individuals who hold college degrees, are bilingual (particularly in English and Spanish), have substantial experience in business relations, marketing, financing, design and development, lead and sales generation, and customer support, and work from home.
They have three core service categories, administrative, marketing, and custom, respectively.
Administrative solutions allow clients to concentrate on more important responsibilities. Their nearshore administrative staff possesses the skills, flexibility, and scalability necessary to handle non-core responsibilities such as bookkeeping, accounting, project and operations management, sales and lead generation, executive assistant, and clerical customer service.
Marketing solutions encompass tasks that are geared toward improving one's business marketability. Such specializations include marketing specialists, graphic designers, content writers, web developers, and social media specialists, to name a few.
Finally, their custom solutions enable clients to select the optimal combinations of skills to maintain the efficiency of their operations based on their individual needs and conditions.
Currently, Uassist.ME operates with over a thousand staff in their offices in Miami and El Salvador and has served over 300 clients across the globe. 
7. Peak Support
Peak Support services are centered on providing exceptional customer support solutions to SMEs and high-growth firms alike. Their impressive line of help desk support services includes sales operations, customer support, and general business process outsourcing for businesses in the retail and ecommerce, software and technology, and gaming industries.
Peak Support helps businesses become more efficient with their work processes by supplementing them with a team of agents that possess the right skills to take on specific tasks—whether for customer service, technical support tickets, or any other client care-related operations. They also integrate multichannel approaches into their services. These channels include email support, phone (text and call), live chat, and social media. All services can be availed at a highly competitive price range.
8. WOW24-7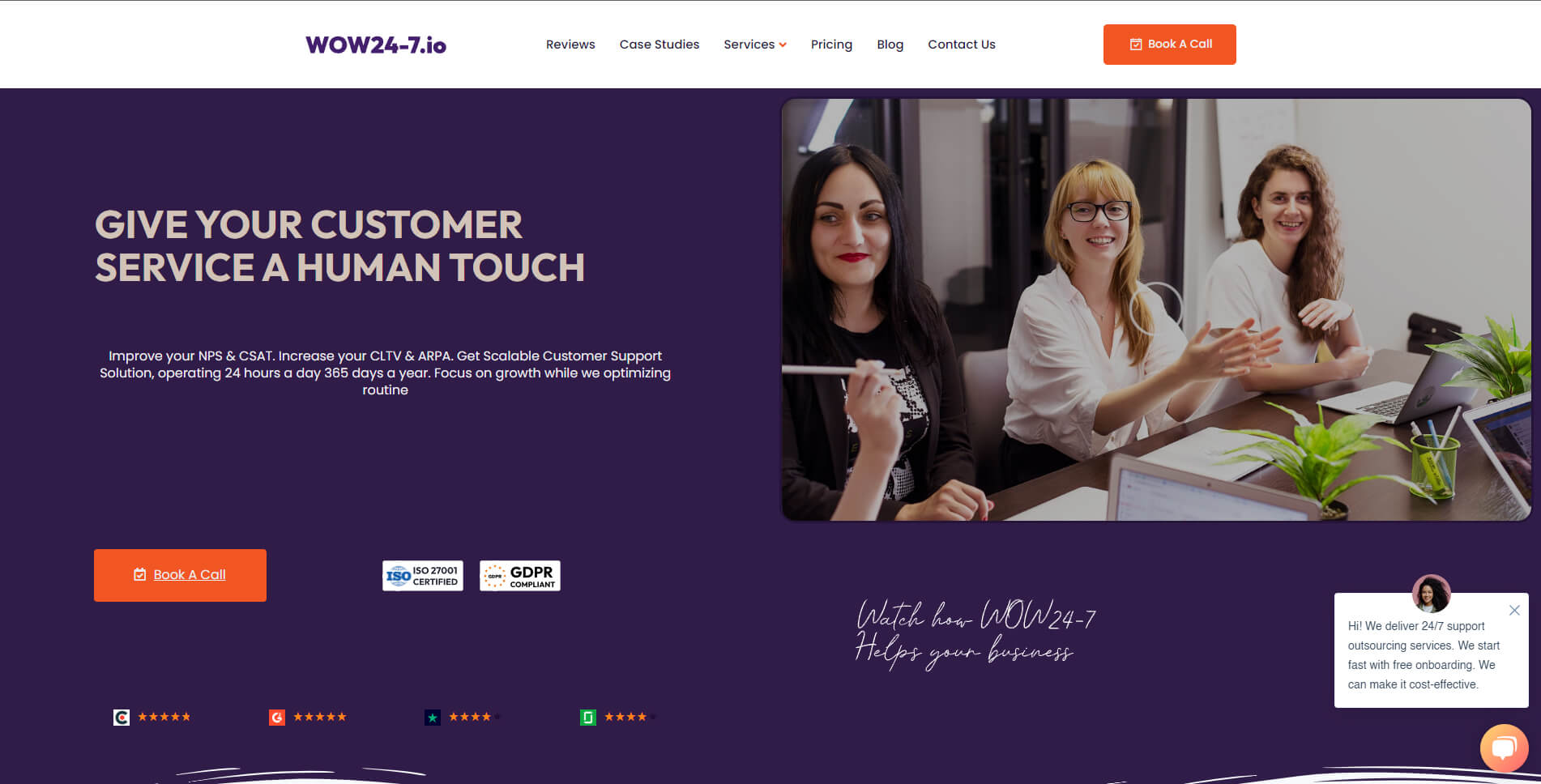 WOW24-7 works with companies in over 20 countries to improve their customer service by providing them with cutting-edge tools for customer care and specialist support staff members that have outstanding communication skills. This helps WOW24-7 clients provide a better experience for their customers.
Over the course of more than a decade, the business has been offering omni-channel outsourced solutions. Their solutions for customer service are tailored to match the ever-evolving demands and standards of today's consumers, who have come to expect constant innovation in this sphere.
WOW24-7 offers extensive knowledge and experience in providing high-quality services to a wide range of industries, including software development, SaaS, ecommerce, retail, aviation, travel, electronics, and entertainment.
All of the following support options, including SaaS support, L1 and L2 technical help, ecommerce support services, frontline assistance, back office support, and virtual assistant services, are available around the clock, every day of the week.
9. SupportYourApp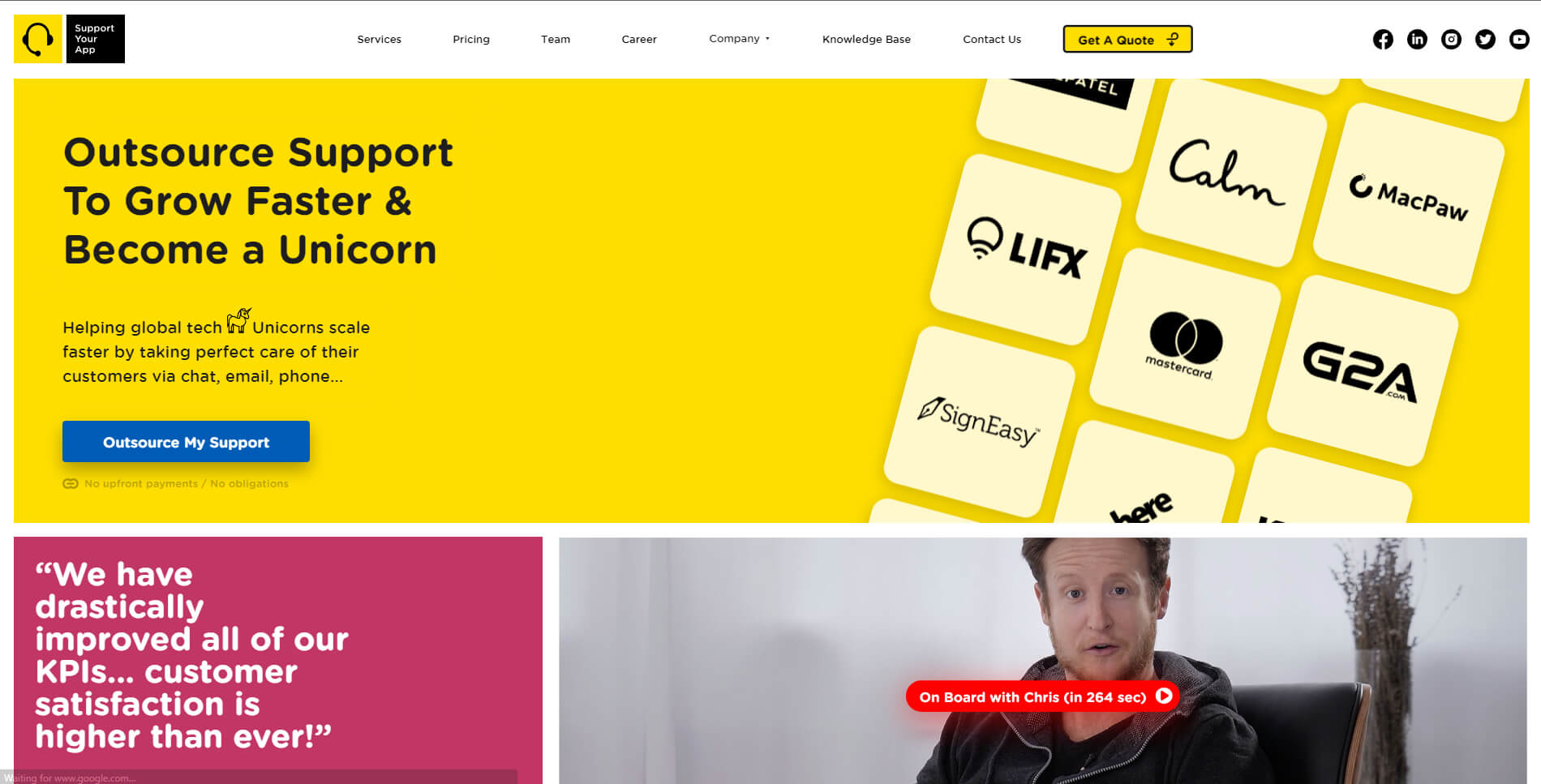 SupportYourApp, which has received numerous five-star reviews from various review sites, is yet another customer support company that has been shown to be an excellent alternative if you are searching for a dependable customer care provider.
SupportYourApp is a software as a service (SaaS) startup that provides well-known technology companies with multilingual and innovative customer support services. With their in-house cloud-based technologies and team of local staff, they are able to efficiently provide omnichannel assistance in up to 55 languages for customers located in over 30 different countries. In addition to being ISO/IEC certified, the company complies with the PCI/DSS standard, the GDPR, the CCPA, and HIPAA. That is, all of their clients' and their clients' customers' data is completely protected.
Their service offerings include things like customer assistance, technical support, call center services, data input, content moderation, content enrichment, data annotation, and staff augmentation.
10. Pac Biz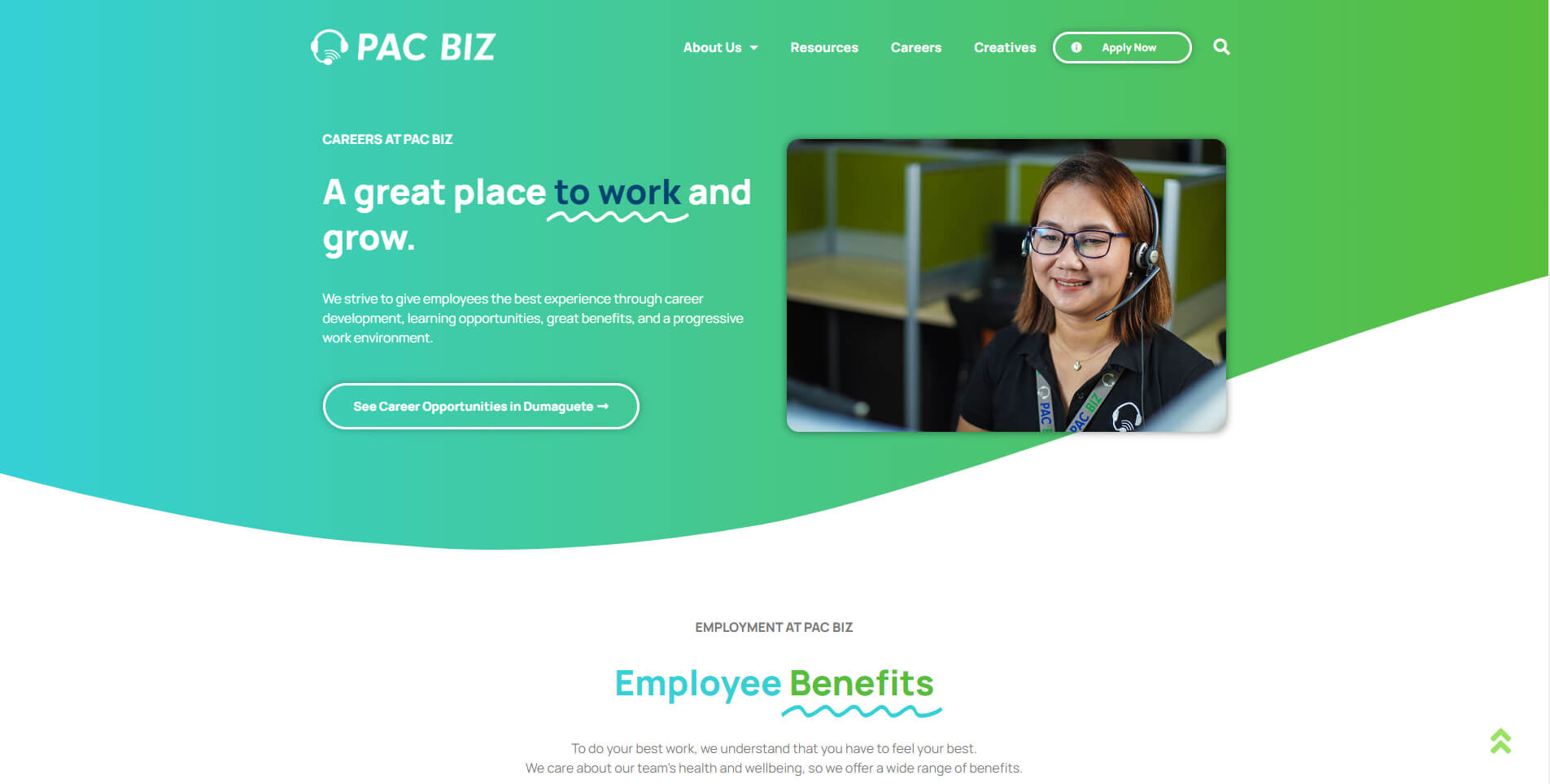 Pac Biz is a customer support outsourcing company that ensures that when a client hires their services, they are prepared to employ agents who are prepared to handle a variety of situations that could put a firm's credibility at risk. This is something that they do when a client hires them.
The core skills of Pac Biz are heavily reliant on support agents who possess superiority in their respective fields. They have customer care operators who are well-versed in the use of the most up-to-date customer service tools and software, agents who are available 24/7, agents who are dedicated to their work and who put an emphasis on quality, and a team of agents who share the company's vision. They work together with businesses from a variety of industries, including e-commerce, logistics, information technology, and healthcare, amongst others. In addition, the organization complies with both SOC2 and HIPAA standards.
What to Look for in a Call Center

With over 330,000 telemarketing and call center firms in the US alone, choosing the right call center provider for your business can be tricky. So, what should you look for when choosing a customer service company? Here are several variables to consider to help narrow down your options in choosing the ideal call center partner for your business.
1. Have a Clear Vision of the Future
Find a call center supplier that takes all of your aims into consideration, particularly your plans for future expansion. Make sure that the third-party solution provider you use can accommodate and respect your growth goals, and that they are also willing to grow alongside your company.
2. Professionalism
Call center agents are the first line of defense when it comes to addressing the myriad of inquiries and complaints that are received from customers. It is imperative that companies never lose sight of the fact that the vast majority of customers will only contact their help desk in the event that they are encountering issues with the products they purchased or have received subpar service. In other words, they have reached a point of discontentment.
On the other hand, a team of trained call center representatives is able to quickly handle disagreements while maintaining their grace and professionalism. They are able to keep their composure and show empathy even while dealing with irate customers, and they are dedicated to finding solutions to problems as fast and precisely as possible.
3. Size of Business
When working with a call center outsourcing provider, it is essential to take into consideration the size of both your own organization and the business that is being outsourced. The size of the call center has a direct impact on the operations of the business. If you go with a small third-party provider, there's a high chance that the service that you provide to your customers will be sluggish. Meanwhile, selecting an outsourcing company that is excessively large in comparison to the size of your company will just result in additional costs that may be difficult for you to handle. As such, the size of the outsourcing company that you pick ought to be equal to the size of the organization that you work for. 
4. Values Training
It is essential to keep in mind that there is always room for development in the field of outsourcing, despite the fact that companies who provide this service work hard to provide the best experience possible. Is your third-party provider offering regular training opportunities? In what ways are their training programs comprehensive? This will become apparent to you if you note that their reps are able to fluidly transition from one task to another and adapt to the shifting requirements of your firm.
5. Uses the Latest Technologies
Does the company that you outsource make use of the most recent tools and resources that are necessary to successfully carry out your collaborations? Even though this is not necessarily a deal-breaker, it does ensure that your business operations are being handled by competent individuals.
6. Performance
Naturally, it is essential to have a solid understanding of how well your service provider operates. You can determine this with the use of call statistics. Consider using a wide variety of metrics and key performance indicators (KPIs). You may, for instance, look into their average call handling time before someone picks up the phone to answer a call. What exactly is their FRT (frequency of response time)? When a customer calls, how quickly does an agent get back to them? When a customer calls, how long does it take before they get to speak with a real person? These kinds of indications might be utilized in order to construct an overall performance evaluation of the third-party service provider.
7. Customer Service
This encompasses not only the customer service that they provide to your customers, but also the customer service that they offer to you. Remember that they are the ones who will be reflecting your company's image when they are interacting with your clientele. It is common sense to evaluate the quality of their customer service by observing how well it is provided to you initially. Whenever you get in touch with them, the ideal scenario is for them to provide a response that is prompt and accurate. Additionally,to minimize confusion on either side, their internal customer support team ought to be knowledgeable with all of the company's product lines as well as the services they offer.
8. Multilingual Capabilities
This is especially important to keep in mind if your company caters to customers all around the world. Your partner in outsourcing should have a pool of specialists that are able to cater to audiences who speak a variety of languages. Because of this, you are able to extend your reach into a market that is more competitive and requires fluency in multiple languages in order to survive.
9. Product Knowledge
An excellent call center must be flexible in order to comprehend the nature of the products and services it offers. They should be willing to learn about the product lines and services you offer, in addition to the software tools you employ for your various help desk channels. This makes all of your contacts with your customers much easier.
10. Testimonials
When choosing a call center company, do the same thing you would do when employing another employee: search the internet for testimonials from prior clients of the company. Use this experience-driven content as a reference before committing to the collaboration. This helps you to narrow your options.
Because the vast majority of reviews are published on the internet, it is probable that some of them were made up in order to promote the company and entice potential customers. Internet trolls can also lead some people to react adversely. A call center that works with integrity, thoroughness, and honesty should be able to provide references from other satisfied clients who can attest to the quality of their services.
Choosing Shouldn't Be Hard

At this moment, there are a great number of customer service outsourcing firms competing with one another for your attention in the international market. However, wading through a multitude of options can be a challenging endeavor. Especially considering that every single one of them possesses one of a kind qualities and characteristics that can be utilized to enhance the effectiveness of your company's customer service operations.
When it comes to finding the ideal business partner for your organization, one of the most important questions to ask is whether or not the potential partner can adapt to the shifting requirements and expectations of your business. In a perfect world, you would like your outsourcing partner to provide your customers with an unforgettable adventure. These are some of the best companies that provide outsourcing services currently available.
Again, choosing the right one can be hard, but it is important to keep in mind that it shouldn't be that challenging! Do you want the selection process to move forward more quickly? Maybe we might be of some help to you! How about we pick only one of those possibilities for you?
If you are looking for a service provider that not only offers high-end services but also offers customer service solutions to reduce support costs and other expenses associated with the service at hand, New Media Services might be the ideal candidate for you to consider. Your business will be able to enhance conversion rates, place an emphasis on user convenience, and enter the competitive global market thanks to the customer support solutions provided by NMS. In addition, we work together with our customers to guarantee that your customer care operation provides effective, adaptable, and efficient customer service to meet the ever-changing demands of the market, all without requiring an excessive amount of investment on your part.
Want to know more about our call center solutions and their flexible price range? Get a quote now!