Online shopping, digital marketplaces, and e-commerce, in general, are rapidly growing in popularity. As a result, companies are constantly finding ways to enhance customer satisfaction, increase efficiency, reduce costs, and simplify their overall operations.
One of the ways businesses obtain such goals is through a strategic approach: billing call center outsourcing. This involves entrusting a third-party company to provide a call center for financial services such as billing-related inquiries, refund management, and cancellations.
Billing call centers are crucial in managing financial transactions and ensuring seamless payment processing between merchants and buyers. Outsourcing call center services is a significant step toward having better customer relationships, enhancing business growth, and establishing credibility.
Collaborating with external service providers is one of the effective strategies to achieve long-term success and develop customer loyalty. This is why companies opt for billing call center outsourcing, considering its numerous benefits.
1. Cost-Effective Solutions
One of the benefits of outsourcing call center services when it comes to billing is cost-effectiveness. Outsourcing helps you save on onboarding, overhead fees, technology, and labor costs, among others.
Aside from these, a billing customer service provider is often prepared for compliance and regulatory changes.  This way, there won't be a risk of potential penalty fees due to non-compliance.
2. Enhanced Focus on Core Competencies
Outsourcing allows companies to focus, allocate, and maximize their time, resources, and workforce to core competencies. This ensures increased efficiency, productivity, and revenue generation while external service providers handle their business needs.
As a result, companies can direct their efforts toward value-added tasks and strategic initiatives. This newfound capacity for innovation empowers employees to focus their expertise on areas where they can make a more significant impact.
3. Scalability and Flexibility
The more customers you have, the more manpower you need. Onboarding requires additional equipment, space, and expenses. However, many businesses may find themselves lacking the necessary resources to manage this expansion effectively.
You also need to account for peak seasons. This is when a business must scale up workforce operations and allocate additional resources to cater to the spike in customer demand. 
Choosing a trusted partner whose strength includes scalable and flexible billing customer support is crucial. As your business grows and expands, the outsourced call center customer service provider should quickly adapt to evolving customer needs and demands. They should also respond to market changes with agility and confidence.
4. Expertise and Specialization

Billing call center service providers are equipped with professionals whose expertise and specialization in billing-related matters are unparalleled. They have sufficient knowledge and skills to resolve issues more efficiently and accurately than an internal team that often juggles multiple tasks.
Let us look at the outsourcing success story of Procter & Gamble (P&G). P&G has effectively utilized outsourcing for its facilities management, IT customer services, and HR units.
One of their most remarkable outsourcing ventures was partnering with Infosys for IT services to enhance their global IT operations. It was a strategic move that allowed P&G to save millions of dollars while benefiting from Infosys' expertise in IT development and support.
5. 24/7 Customer Support

Billing call center outsourcing offers 24/7 customer support that allows customers to experience continuous access to assistance. The billing customer support specialists work around the clock to give immediate action as they attend to customers' needs, whenever and wherever they are. This helps cultivate long-lasting customer relationships and increase brand loyalty.
6. Improved Customer Satisfaction
With 24/7 call center billing support, companies can ensure enhanced customer satisfaction through accelerated resolution, smooth transactions, and reduced waiting time. Satisfied customers lead to meaningful engagements that foster lasting relationships and a loyal customer base.
Customers are more likely to consider a company reliable and credible when the latter provides excellent financial services call center solutions. Satisfied customers will likely share their experiences with others, turning their network into potential customers.
7. Reduced Workload and Stress
Outsourcing billing customer support reduces financial burden by validating transactions through proper judgment and lightens the workload of in-house teams by bearing the weight of day-to-day tasks that would normally be handled internally. 
Billing call centers handle daily inquiries related to billing, invoicing, payment refund processing, and customer-level account management. Other tasks include informing customers about their balance, payment status, subscription details, and, when applicable, membership dues.
Outsourcing allows prompt and around-the-clock assistance. This ensures that companies can address customer concerns at any time without sacrificing the well-being of their internal staff. 
8. Technological Advancements
Outsourcing providers invest in advanced technology, equipment, and infrastructure to heighten productivity, refine operations, and enhance customer experience. They also constantly keep up with evolving trends to quickly respond to market needs, make informed decisions, and optimize customer support strategies.
Outsourcing allows you to utilize these technologies, helping you stay ahead of the curve. This forward-thinking approach ensures that your operations remain not only current but also well-prepared for future challenges and opportunities.
9. Global Reach and Multilingual Support
Businesses that outsource billing customer services have access to a broader range of target markets. This especially applies to offshore outsourcing.
Utilizing a multilingual billing call center allows companies to connect with customers in their preferred language, enabling a more culturally sensitive and respectful transaction. This strengthens the bond between the company and its customers and enhances the overall experience of doing business with your organization.
Challenges and Considerations
Billing call center outsourcing has many benefits; however, it also comes with challenges and factors that demand careful consideration. 
Managing sensitive personal information and financial data is a primary concern. Besides complying with data protection laws and regulations, companies must adapt to ever-evolving online threats to ensure safety and compliance. Staying up-to-date with compliance standards helps avoid legal issues and handle customer data with care and accountability.
It is crucial to consider geographical challenges, especially if your company operates internationally. Having different time zones and cultural diversity are part of these challenges. 
By entrusting a service provider that aligns with your company's culture, values, and time zone, you can look forward to easier collaboration and more productive working relationships. And if they can also work in multiple languages, you gain an advantage in communicating effectively with diverse customers.
Poor quality assurance can lead to billing and payment errors, customer dissatisfaction, damaged reputation, and regulatory issues.
So, ensure that the outsourced customer service call center maintains the same quality and standards your company has. You should also see to it that they honor business agreements and meet specific requirements to deliver quality, tailored services effectively. Otherwise, your company will suffer when customers experience poor billing customer service.
Without continuous monitoring and reporting, businesses are more likely to experience increased customer complaints, inaccurate billing information, delayed issue resolutions, and loss of competitive advantage.
This necessitates service providers who conduct real-time monitoring and send you performance metrics reports. This way, you can give them feedback and comments regarding areas that need improvement. 
Achieving customer satisfaction helps in maintaining a positive brand reputation. Any misunderstanding or mishandling by the service provider can result in reputational damage for the company. 
Delve into their track record, explore their background history, and assess their depth of experience within the call center industry. By doing so, you're not only safeguarding your brand's reputation but also ensuring that your customers' journey with your business remains smooth and gratifying. 
Data Security and Compliance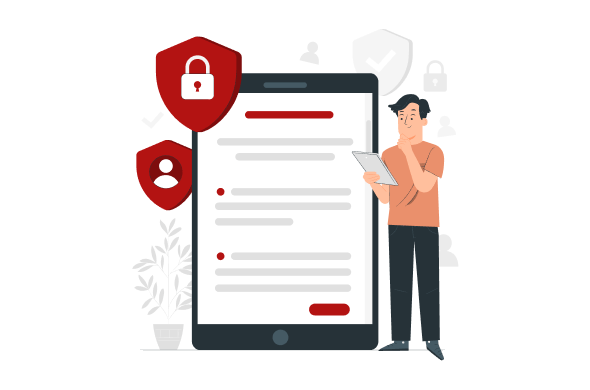 Considering the prevalence of privacy breaches and cyber threats in today's digital era, companies must keep data security and compliance in mind.
Data security is a vital aspect of billing call center outsourcing. This involves handling customers' sensitive financial and personal information. Service providers must ensure that these sensitive data are not misused or shared with unauthorized individuals. Otherwise, customers will perceive your company as unreliable and incompetent.
Regulatory compliance, on the other hand, speaks of adhering to laws, rules, and standards of the respective industry. Non-compliance will equate to hefty penalties, fines, legal actions, and reputational damage. The importance of regulatory compliance in the financial industry goes beyond maintaining your company's operational integrity; it builds customer trust and loyalty and expansive growth. 
All things considered, there is an emphasis on selecting a billing customer service provider that respects sensitive information and ensures regulatory compliance. 
Ensure Excellent Customer Satisfaction with Billing Call Center Outsourcing
Despite a few drawbacks, the advantages still outweigh the cons. These advantages make it the main reason companies opt for billing call center outsourcing. This approach helps keep the balance between providing exceptional customer service and maintaining cost-effectiveness.
Finding a reliable partner can be challenging, but you will find the right one with proper evaluation and consideration. Take New Media Services, for example.
New Media Services is dependable and will meet your billing customer support needs at a reasonable and affordable cost. Our dedicated and experienced teams provide personalized, comprehensive, and prompt solutions. We are always ready to help your company strive for excellence in customer satisfaction and operational efficiency. 
Experience smooth and reliable billing customer support! Contact us today!