Originally an online store for snowboarding equipment, Shopify has developed into a cloud-based ecommerce platform that lets users build and run an online store. It provides an assortment of tools necessary to run an online business, from customization, payments, marketing, and even logistics.
So you have your platform, your ecommerce tools, your products, your services, and then your employees. You launch your online business and eventually gather an audience. What do you do to make sure you retain your customers while still attracting new ones?
Customers nowadays are becoming more and more selective when it comes to the quality of user experience. This is where customer service cues in. However, this is not an easy task when a bad experience is way more likely to reach more people than a bunch of positive ones.
While the traditional ways of providing customer care are still a viable option for accommodating clients, they may not be able to satisfy the shifting expectations of modern consumers. As such, the vast majority of businesses are finding ways to revolutionize their customer service. 
Delivering great customer service increases sales, strengthens your customer relationship, and boosts conversion rates. To ease the burden, Shopify clients have taken to outsourcing their customer support teams. Then the next obstacle is choosing the company to outsource from.
If you are looking for the best companies to outsource customer service in Shopify, then you're in the perfect place! We gladly saved you the time and compiled the best Shopify customer service agencies that are available on the market right now. But before we proceed to that, let's have a look at some of the advantages of outsourcing customer service for Shopify.
Advantages of Outsourcing Customer Service for Shopify  

Managing and growing your business is already a great task in itself. You want to free yourself from other obligations that divide your attention from focusing on making your business grow and operational. These are some of the ways outsourcing customer service can help you.
1. Availability
Companies that provide specialized customer support can provide round-the-clock service. This is especially useful for people who are not available during sales hours or who live in various time zones. Availability also allows for a live chat function, ensuring that assistance is always available whenever a user reaches out to your help desk channels.
2. Professionally Trained Workforce
Customers expect agents to be knowledgeable about the services provided. Customers may begin to question a company's quality as a result of inexperienced staff.
However, it is not only about the know-hows, but also about how you provide customer service. Trained support employees can communicate with customers in a far more pleasant manner.
3. Quicker Response Time
Customers want quick results. A survey says that 60% of consumers end business relationships due to long wait times. 
Skilled support representatives can cut the wait time and provide immediate solutions to their queries. The fast response can help avoid frustrated and disappointed feedback.
4. Cost-effective 
Finding and training employees in the field of customer service takes time and money, so outsourcing from a well-equipped company is a more efficient option. This is especially true for businesses that cater to a large and continuously growing clientele. When you have a team of outsourced customer service representatives ready to accommodate and address customer-related dilemmas, the easier it becomes to keep up with the dynamic demands of customers.
What to Look for in Shopify Store Customer Service

Now that you know why it's preferable to outsource Shopify customer service, how do you know which company to outsource from? That requires thorough research, but here are four things to keep in mind.
Does the company delve into the fields related to your business? Not all BPO companies are the same, nor their specializations. And even if they are, make sure to check if their employees are skilled and considered experts in their field.
The advantages of outsourcing customer service become moot when the company's technical media cannot keep up. State-of-the-art or at least updated facilities provide better communication and efficiency.
Speaking of communication, you can immediately gauge a company's customer service quality by how smooth every transaction is. They should be relied on to be transparent about the state of things, providing accurate reports and recommendations for a better service.
Another point for communication should be the availability of multilingual support. This feature allows you to gather non-English speaking customers, expanding your market reach.
It's not a bad idea to check the records and reviews of prospective companies. After all, you are trusting them with the bulk of your business's customer experience. It is just practical to ensure that the company is able to deliver on its promises.
Top 8 Best Shopify Customer Service Agencies

Choosing the proper company to manage your Shopify customer support might be a difficult undertaking. However, as promised, we've done the necessary research and compiled a comprehensive list of the top 8 companies that give exceptional customer support and can be used with Shopify. Let's go over them one by one.
1. New Media Services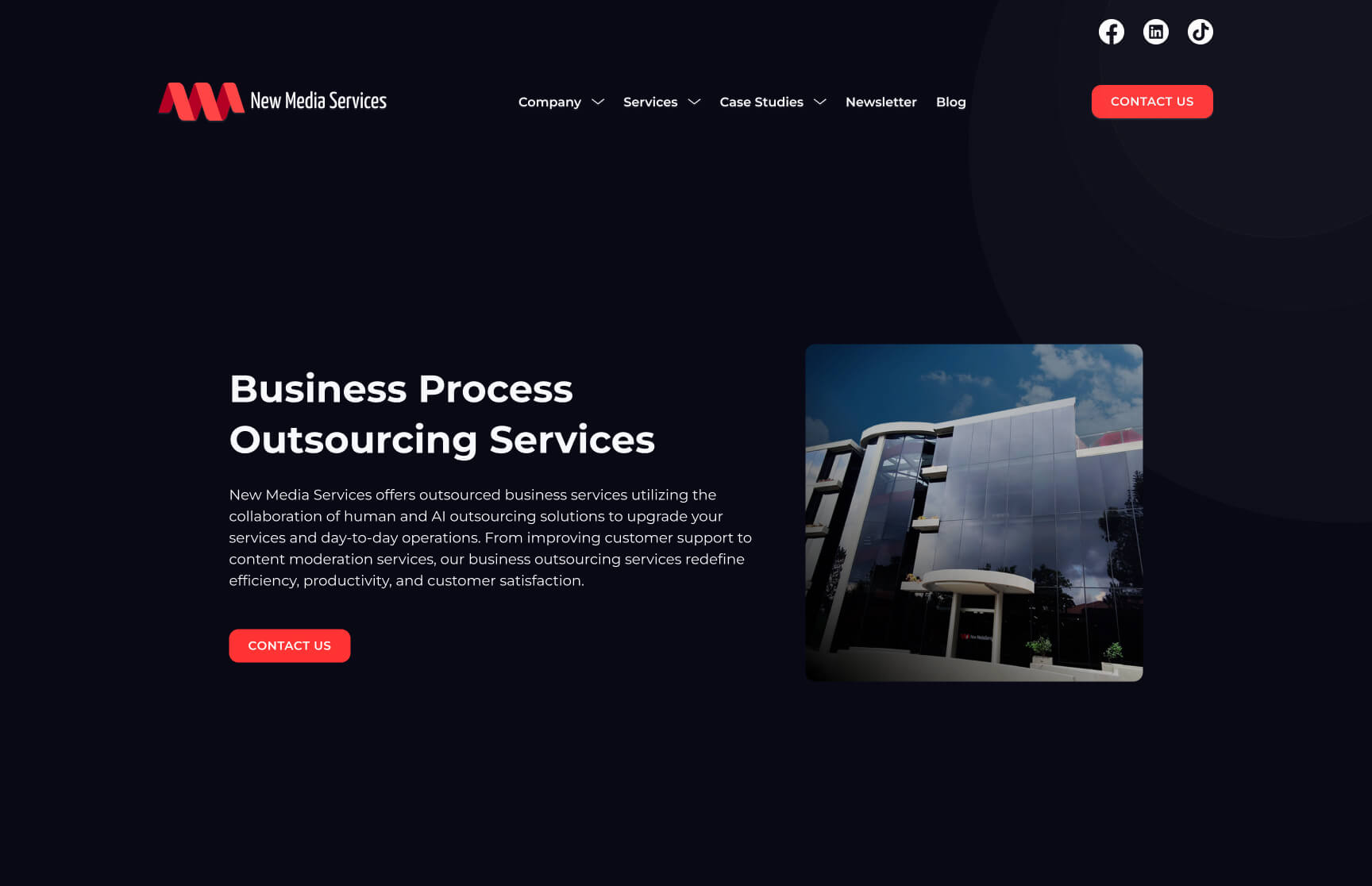 If you are looking for a company that possesses the capacity to deliver exceptional customer service for Shopify, then New Media Services might come as an ideal option. New Media Services (or simply NMS) is an outsourcing firm that specializes in combining machine learning and human expertise to deliver a vast array of custom-made outsourcing solutions. With their line of impeccable customer service solutions, they have helped numerous brands and marketplaces stand out in the cutthroat Shopify landscape. Their wide array of customer support solutions includes but is not limited to the following:
Multilingual customer support - Access to exceptional multilingual call center agents.

Email support - Uses a cloud-based reply tool to augment after-sales customer care.

Chat operator services - Employ chat operators highly capable in different types of communication services.

Live Chat Support - Implement real-time interactions and continuous assistance integrated with high-end features. 

Contact center services - All-inclusive solution included with its own tools and software to provide timely and accurate responses and solutions.
Pricing:
NMS provides outstanding customer service solutions at very competitive prices. If you want to know more about their flexible pricing, you can get a free quotation here.
2. Helplama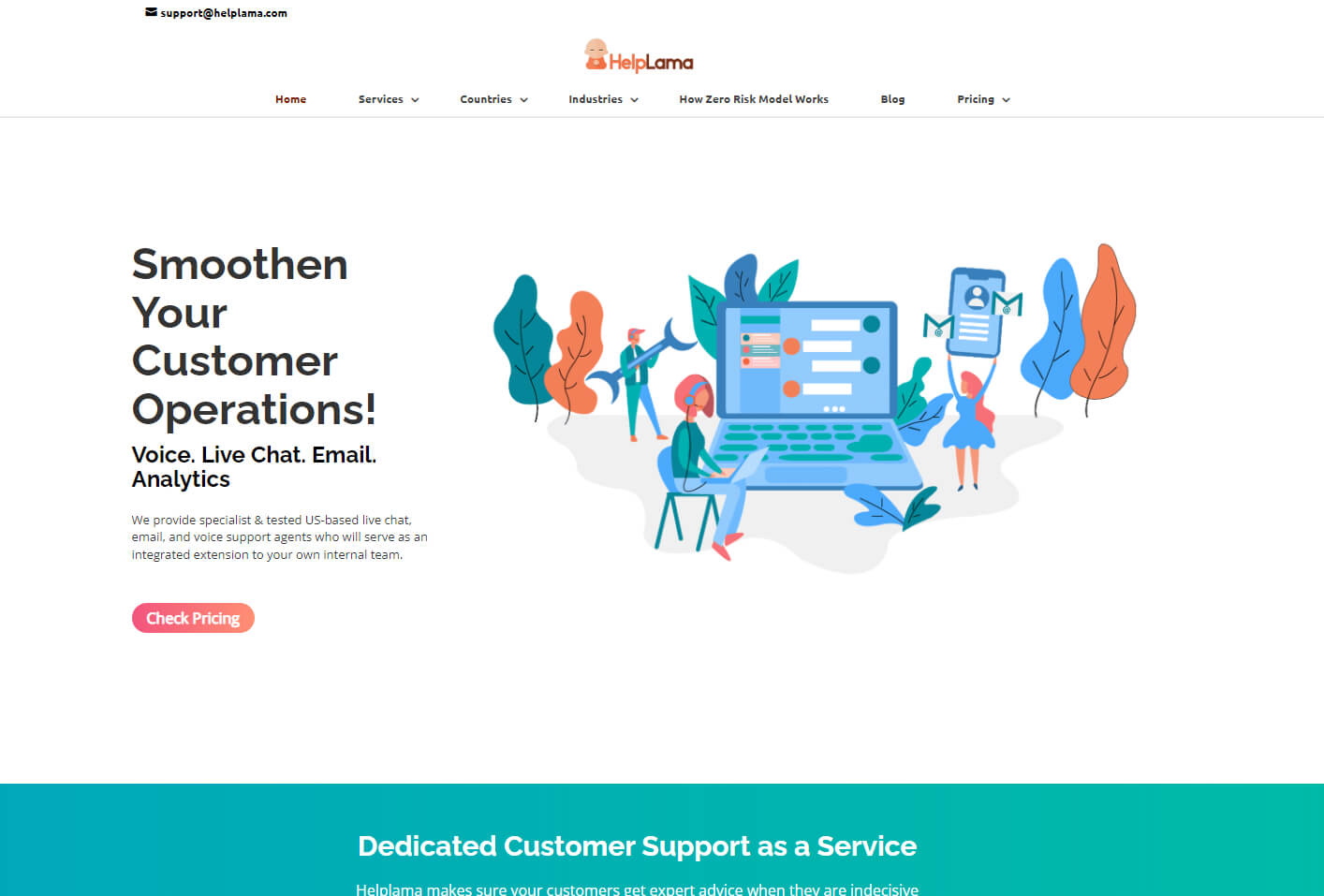 A US-based outsourcing company, Helplama, is yet another ideal outsourcing firm if you want to elevate your customer service on Shopify. They take pride in employing expert live chat support agents to provide the best Shopify store customer service possible. Helplama's customer support services have helped a hundred businesses worldwide increase their sales and improve their overall customer satisfaction rate.
Key Features:
24/7 customer support

Email support

Live chat support

Technical support

Post-chat survey and pre-chat form

Phone support (with phone order taking feature)

Telemarketing support

Zero-risk model
Pricing:
Helplama offers three subscription options: Standard, Pro, and Enterprise. Their Standard Package starts at $99 per month, their Pro Package at $199 per month, and their Enterprise Package at $399 per month. All packages include a 15-day trial period and a maximum of three users. Each additional user will incur a $29 charge.
3. Simplr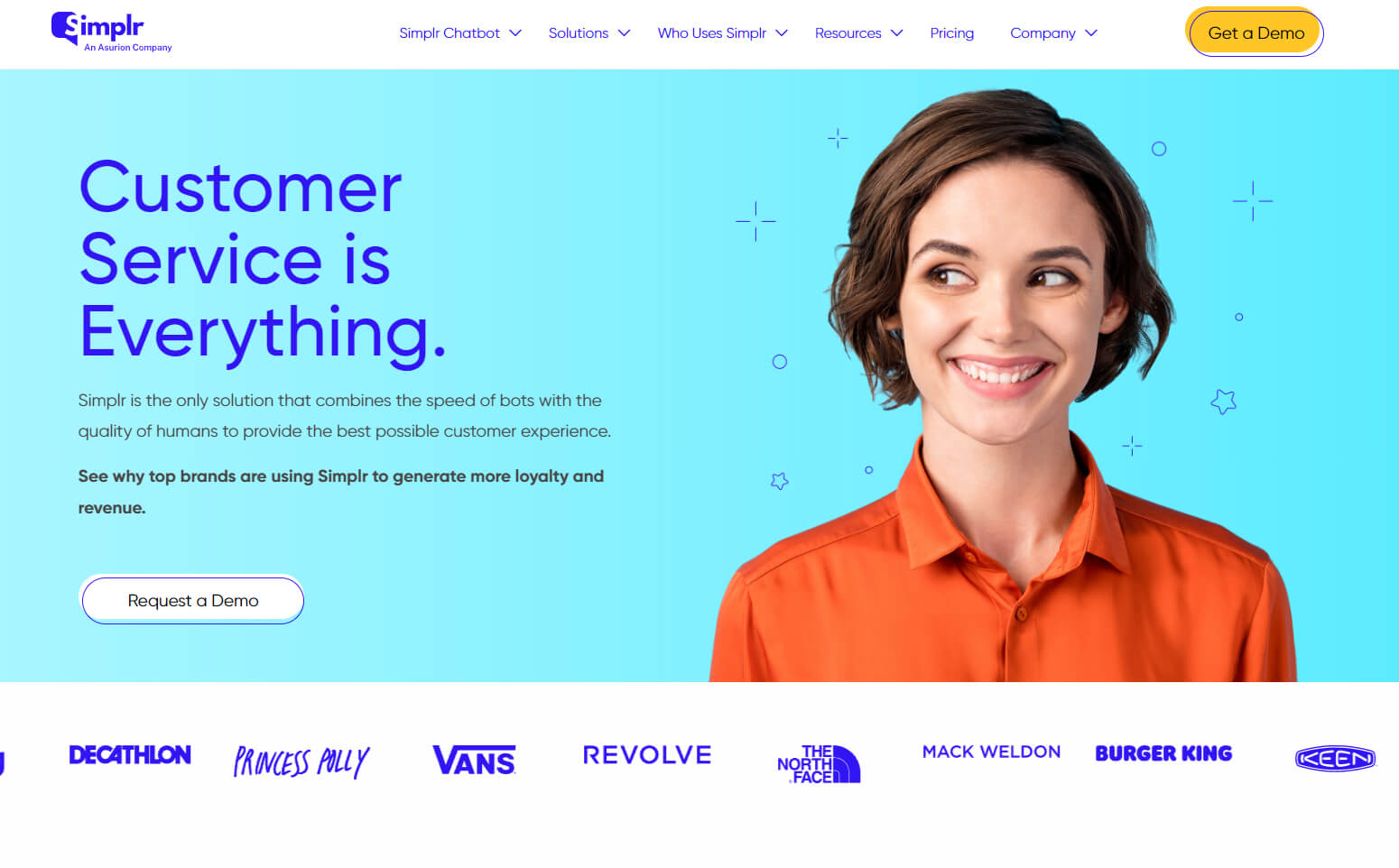 If you want to work with a firm that outsources customer support for Shopify that combines both human and AI potential and that provides round-the-clock help desk services, then Simplr is an ideal option for you.
Simplr is an outsourcing company headquartered in the United States that aims to satisfy user demands and give them greater leverage amongst their competitors by integrating the combined advantages of human operators, the latest customer service tools, and artificial intelligence into their live chat support services.
Key Features:
NOW CX features 

Pay per resolution policy

No contracts and zero hidden charges

Actionable Insights

Customer support

AI-integrated platforms
Pricing
Simplr charges $2.25 per resolution, which is 40% less than the cost of hiring an in-house customer service representative. Plus, you can customize your solution based on your company's requirements.
4. HelpWare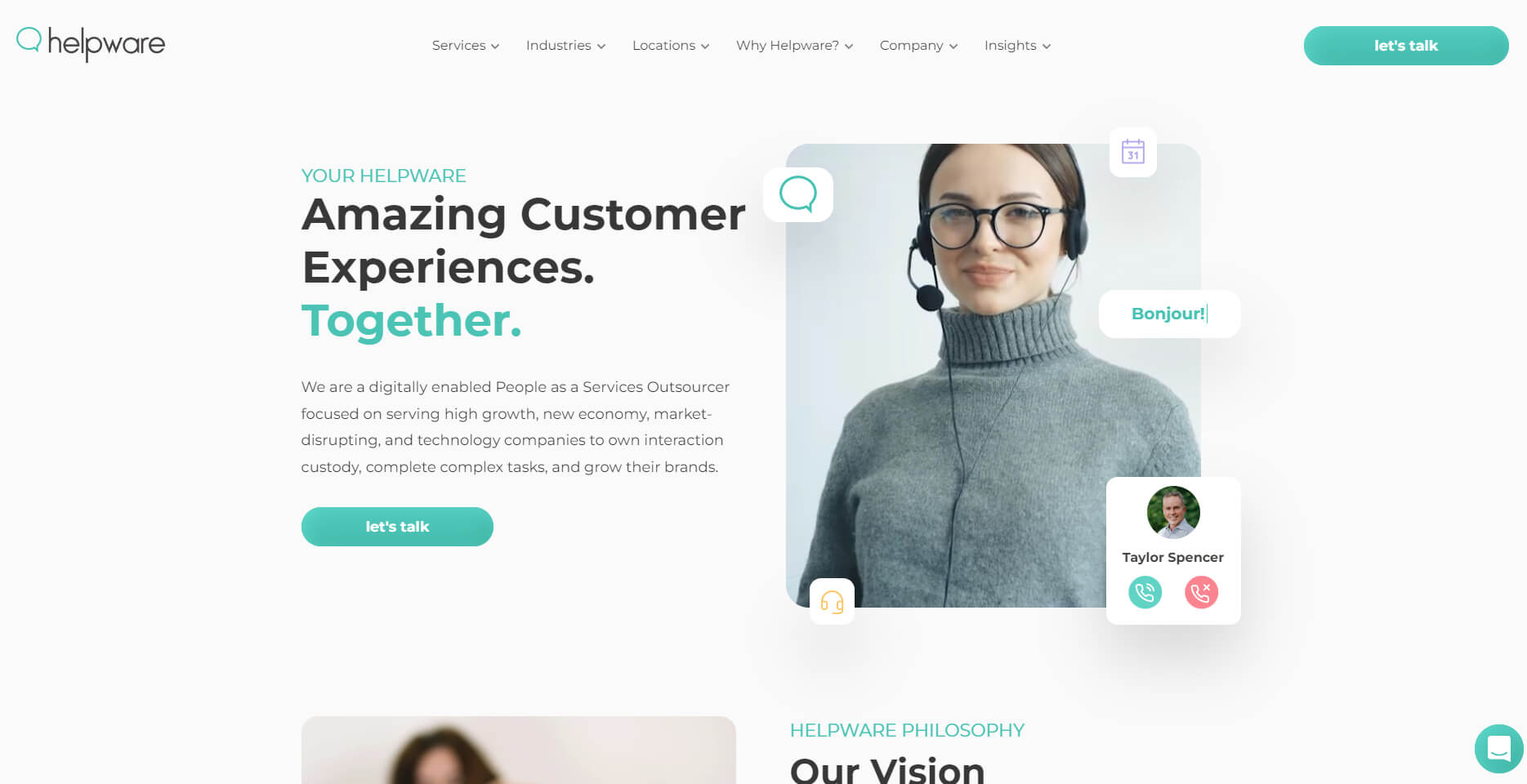 Founded in 2015, HelpWare is a company that takes a modern approach to the outsourcing industry. With offices around the globe (California, Virginia, Kentucky, Ukraine, Philippines, Germany, and Mexico). They have successfully redefined outsourcing by integrating the different cultures of their different locations and providing customized teams in customer service for power leading and modern companies.
Key Features:
Digital customer experience

Back office support

Start-up acceleration

Content control and verification

Taskware

AI operations

Human in the Loop (HITL)
Pricing
HelpWare has various pricing plans and provides customer support that ranges from $1,800 to $2,200 per month depending on the package. All packages come with an additional $400 set up fee.
5. IdeasUnlimited
Another company where you can outsource customer service for Shopify is IdeasUnlimited. They provide skilled resources, trained management and administration, as well as cutting-edge technology and applications, to develop the best solutions for all types of customer help desk-related requirements. In over ten years of providing excellent services, IdeasUnlimited has helped over a hundred clients achieve quality support service.
Key features:
Pricing
They offer customized pricing packages based on the service that their clients select. IdeasUnlimited claims that their pricing is 41% lower than that of other call center companies.
6. Flatworld Solutions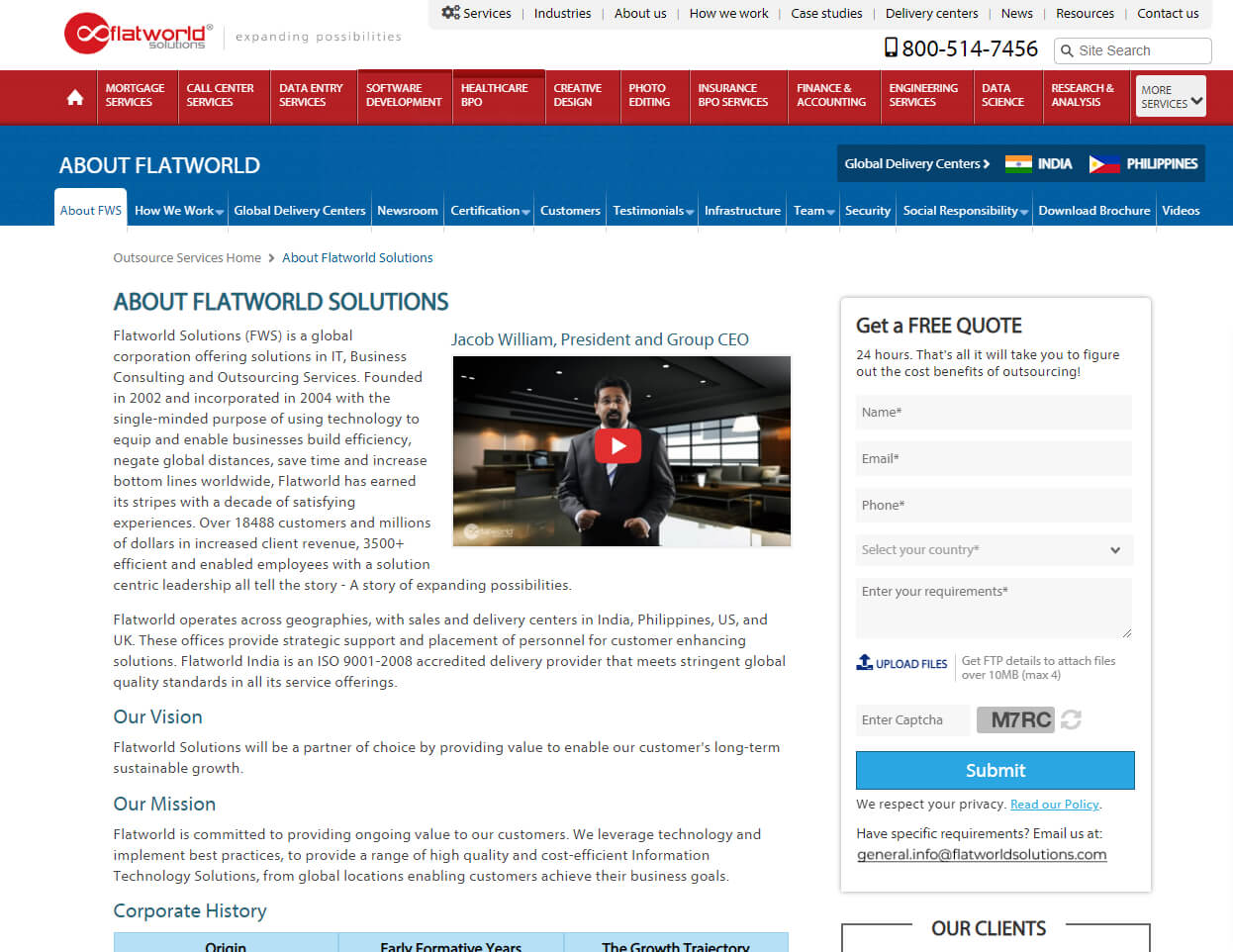 Convert your Shopify customer care with Flatworld Solutions (FWs) state-of-the-art customer service outsourcing solutions. FWS provides IT solutions, business consulting, and outsourcing services. FWS has offices in India, the Philippines, the United States, and the United Kingdom. They provide excellent support and enhanced solutions for professional staff. FWS, a provider with years of experience, offers every service required, including inbound, outbound, chat support, email, telemarketing, and many others.
Key Features:
Inbound and outbound call center solutions

Email-based support

Chat-based support

Business Process as a Service (BPaaS)

Technical support
Pricing
Their technical, non-technical, and advanced technical support services cost $8-10/hour, $10-15/hour, and $15-25/hour, respectively. They also have this "call center staffing calculator." A feature that assists prospects in determining exact pricing based on their company's needs.
7. Octopus Tech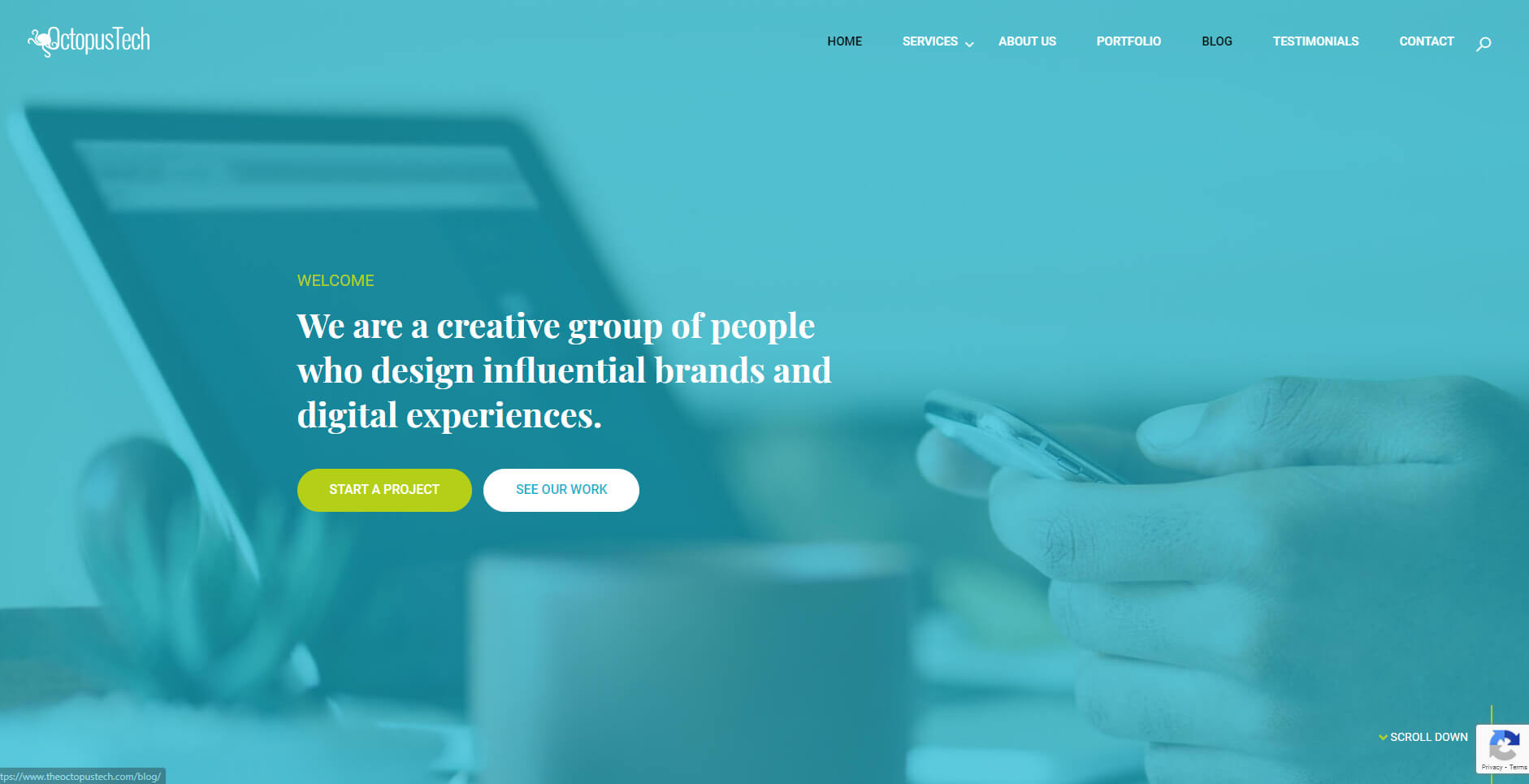 Octopus Tech is a next generation call center outsourcing company that has helped over a thousand companies stay up-to-date and relevant in this digital age. It is one of the most trusted outsourcing service companies for its cutting-edge services backed by its many partners across the globe.
Key features:
Email support

Chat support

Call center support for Non-banking financial companies

E-surveillance Management

Virtual Assistance

Voice Support

Non-Voice Support
Pricing:
OctopusTech solutions pricing starts at around $25. They also offer customized pricing based on their clients' needs and requirements.
8. SellerSmile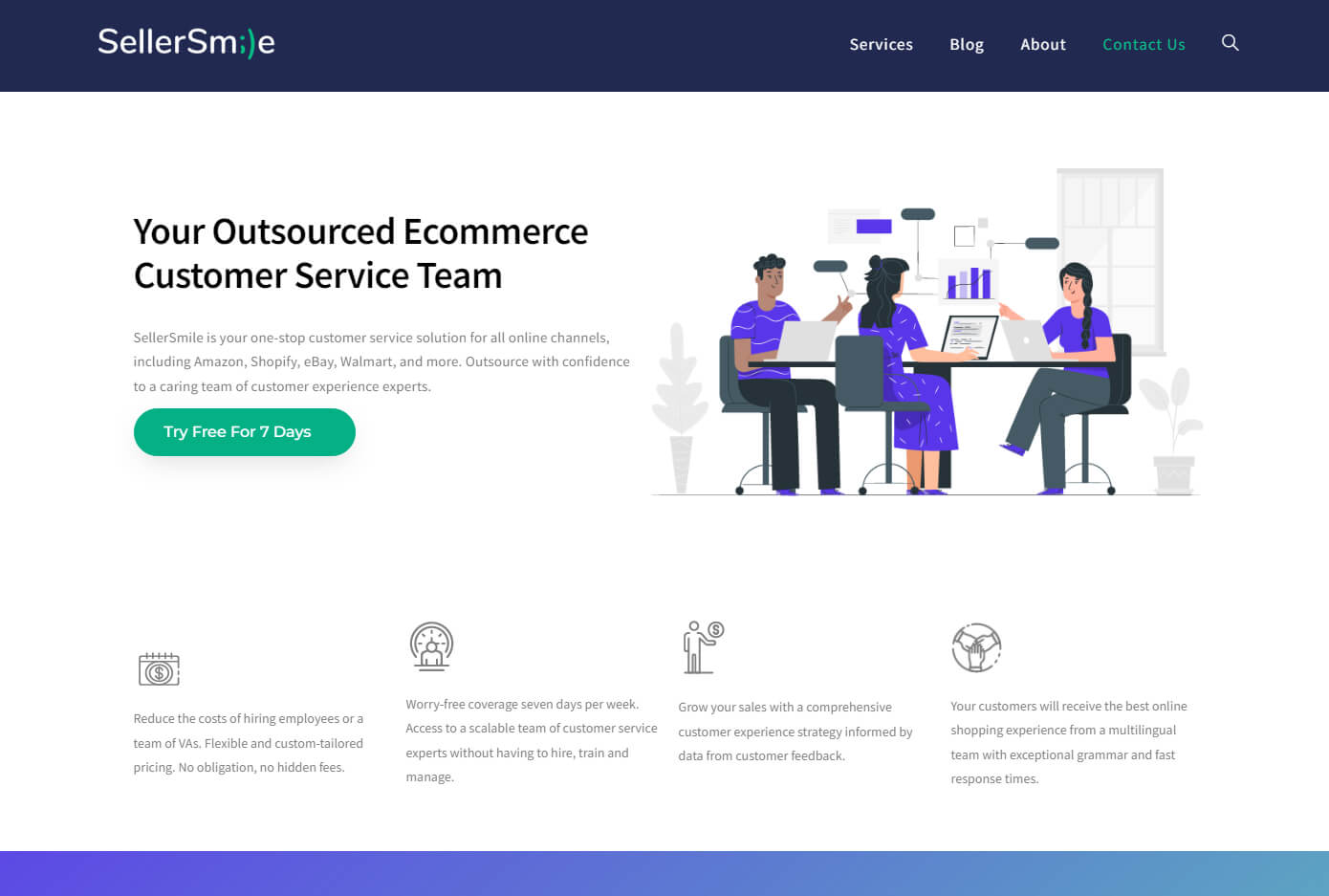 Started as a customer service team for Amazon, SellerSmile has now expanded its expertise to online marketplaces and e-commerce platforms such as eBay, Walmart, and, of course, Shopify. Since 2017, SellerSmile has been consistently providing superior customer support service to numerous e-stores worldwide. If you are searching for a reliable BPO partner to outsource Shopify customer service, SellerSmile is an ideal option.
Key features:
Pricing:
Their pricing is divided into three parts: the Starter pack at $550/month, the Plus pack at $850/month, and the Premium pack, which is customizable based on your needs.
Conclusion
It's already difficult to manage an online business. From registering to Shopify until the delivery of products and services, it can be quite a handful. Outsourcing customer service allows you to focus on your business's growth instead.
Customer service is the foundation of establishing a solid customer base. It is important to meet their demands and provide the best experience you can offer when they subscribe to your products or services.
The advantages you gain makes it important to put in effort in researching which companies to outsource the customer service from. You should know what to look for and which services should be relied on.
The list above aims to lend a hand and save you a portion of the trip. To provide the best outsourcing solutions for email, voice, chat, and billing support, it won't hurt to try the number one on the list and check out New Media Services.
NMS provides intelligent outsourcing services that combine machine learning and human powered activities tailored to your business's specific needs. We offer affordable plans and ensure that your business steadily grows and prospers.
Want to learn more about our tailor-made customer service outsourcing solutions? Contact us!