Moderation Services: 3 Effective Ways to Protect Moderators
Content moderation is an on-going task which is as unending as it is complex. The fact that content is continuously produced by companies and users on a daily basis, means that moderators will always have mountains of content to review. The job requires people to monitor and review various content submissions before it can be deleted and reported. This is to mainly provide a safe environment and seamless experience for online users. This process of removing irrelevant, offensive and at times, sensitive material can take a toll on moderators.
According to social media intelligence firm Brandwatch, there are about 3.2 billion images shared each day. On Youtube there are 300 hours of video uploaded every minute, on Twitter, 500 million tweets are sent each day, which amount to 6,000 Tweets each second. This only means that if two percent of the images are inappropriately posted at any given day, 64 million online contents violates the terms of service agreement of the site which may damage brand image and negative user experience. That's why companies whether huge or just starting up needs moderation services to protect their brand reputation and their users from disruptive contents.
Since the job is tedious and not free from certain risks, the question is how do companies protect their content moderators from the risks of monitoring sensitive data.
Making Use of Algorithms

(Image Courtesy of Pexels)
Content moderators spend hours reviewing text, usernames, images and videos. They often receive up to 60,000 submissions a day. Figuring out what is and isn't a priority is one of the biggest challenges faced by a content moderator. With a seemingly endless supply of content, the struggle is how to be consistent and accurate.
Companies can incorporate moderation algorithms into their system for the purpose of automation. it can assist in pre-approving certain content while helping sort and set priorities. This can alleviate content moderators of the pressure of reviewing each and every bit of content submitted. Algorithms can analyze reports as they come in, then move them into different queues based on risk level and priority. In this way, humans and machines are working together increasing business efficiency and protecting content moderators well being.
Here are some approaches:
Let the algorithm identify and automatically close submissions that don't require moderator review.
Immediately identify and automatically take action on submissions that requires moderator intervention. This can be done with a combination of automation and human review. Many companies leverage into automation but still review high-risk content to ensure that no further action needs to be taken.
Identify content in the gray zone (human moderation) and escalate if to queue for priority moderator review.
Building, testing, and turning an algorithm for your business moderation services takes a lot of time and resources. That's why it is advisable to buy instead of building one, it's important to find several options that will cater your company's content moderation needs.
Switch Tasks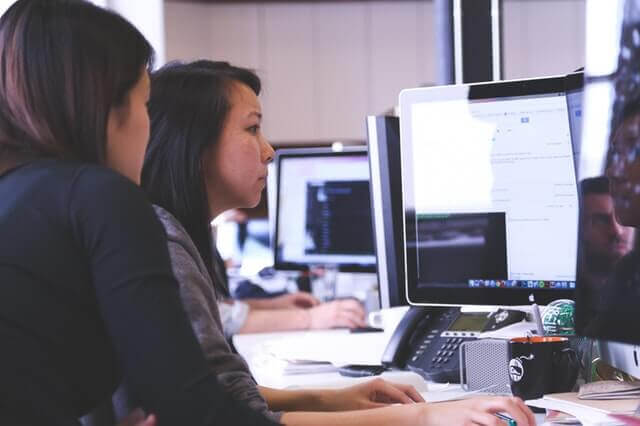 (Image Courtesy of Pexels)
Moderators admits that the more they spend time scanning different kinds of content, the more likely they see something that isn't there or miss something important. And this may result to poor moderation services and unhappy online community.
Have your moderation team take turns working on submissions so they are constantly being reviewed.
Ensure that moderators switch tasks every two hours so they could refresh their minds, maintain their focus and stay attentive on what they do.
Implement a Wellness Program

(Image Courtesy of Pexels)
Being a content moderator is one of the most difficult jobs, so companies seriously take their responsibility on making sure their employees are holistically healthy. Initially, companies held pre-evaluation, orientation and intensive trainings to prepare them for the job.
Make the health and wellness of content moderators a priority, work with mental health professionals, and the latest robust wellness and resilience programs to ensure they have the resources and support they need.
Focus on giving moderators more recognition for the work they do.
Be inclined with different processes, and always learn and apply the newest research to help support content moderators even more.
Provide a wellness plan for content moderators.
Providing a strong psychological support for your company's content moderators is the best way to keep them focused and productive in reviewing sensitive data. This is to prevent them from psychological traumas.
The points mentioned above are the ways to maintain a sustainable moderation services that benefit not only your brand reputation and users but also your content moderators' wellness.
Want to contribute to NMS or SMS Go blogs and work with us in cross-promotions? Contact us and we can discuss how we can share content that will benefit both our businesses.