How to Write Great Customer Service Email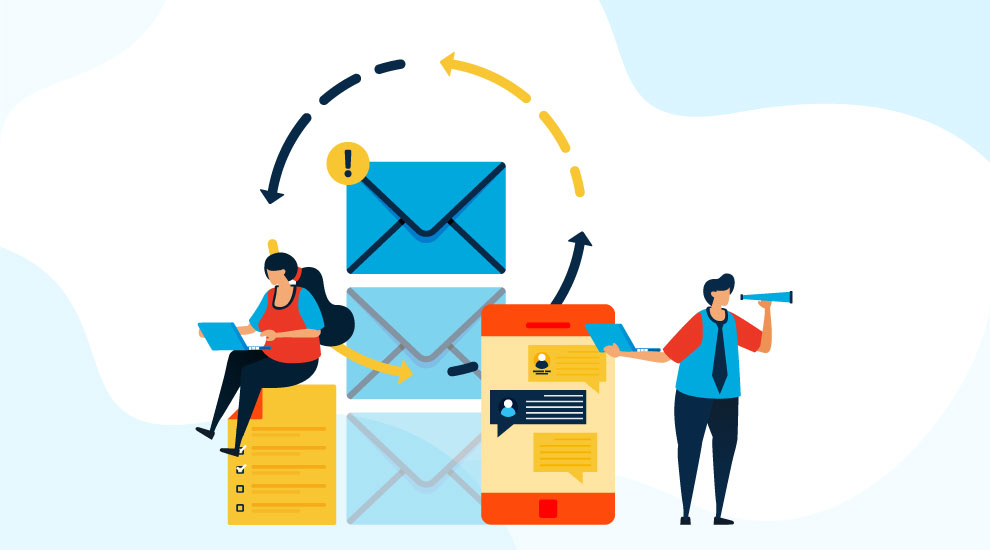 Email has become an invaluable business communication tool that has been used for many years. It is used to interdepartmental communication in companies and in addressing client concerns. One of the advantages of email is you can use it anywhere provided that you have a stable internet connection. That is why businesses are taking advantage of using emails for their customer outreach.
Customer service email writing can help a business to reach success and longevity. A better-written email can nail your end-user's issues in a cost-effective and more personal way. If not done to the standards that today's busier and more demanding buyers expect, you could be looking at an exodus of your customers straight to your competitors.
When you send emails, it is only natural to encounter some mistakes. Either you sent the wrong link or you addressed someone by the wrong name. These are some issues that can be avoided if you only have a checklist on how to write good customer service emails. 
After all, writing good customer service emails depends on knowing the correct fundamentals.
Check these best practices on how to write a customer service email effectively to provide excellent customer service.
Customer Service Email (7 Best Practices)
The sheer number of emails that your support staff have to read and respond to daily makes it difficult to pinpoint exactly what to improve. While email templates are helpful in improving your customer service business email writing, it is a wise decision to try the following tips.
These are practices meant to assist in personalizing your response so it can strengthen your company's customer retention strategy. So, before responding to queries via email, make sure that you:
Treat them with a personal touch.
When people feel like they are receiving an automated and lifeless email from a company, they become disappointed. They expected so much more, and so it is heart-wrenching if you respond to them in a robotic manner. Surely, you wouldn't want your customers to feel that way.
Personalized email is the key to making your target audience feel like they are interacting with a real human, and not a robot. 
How will you make your email sound personal? 
Use the customer's name at the beginning of the email and sign it with your name at the end. Don't forget to greet them at the beginning of your email. It should go with a slightly friendlier tone to respect their boundaries and gain their trust. This makes the customers feel like there is a real human behind the email.
Use simple language.
It is essential to talk to the clients following their background and lifestyle. This suggests sticking with simple vocabulary. Adding highly technical jargon or sophisticated terms in your email is out of place. This sort of language can create even more questions and concerns for the customer. When they explain their queries to you, answer them in equivalent terms. 
Unlike face-to-face, communication in emails is more likely to have a greater chance of misunderstanding. They can misinterpret the choice of words, punctuation, and grammar. Instead, you can check out which phrases to use in your client and customize your replies to suit the demographic that your products serve. 
Address the customer's emotions.
Fill your messages with empathy and understanding — even when the customer is angry. When you receive their email, try to understand their concern before crafting a response. 
Empathy can help you deal with frustrated customers, though it is hard, especially if the customer is fuming mad. But, if you show that you understand their frustration, it will decrease the chances that they'll leave you for a competitor.
Promptly Respond to Customers.
It is important to quickly respond to questions and complaints. Delayed responses to emails can turn away potential customers. It also creates a negative impression with existing customers. Worse, they might even transfer to your competitors.
With that said, the customer support team should keep to their tabs of promptly answering every email that arrives in the inbox. The agent should not wait more than a day to reply to the customer. They must also form an inventory of all the questions, complaints, and concerns of the purchasers then take steps to deal with them after consulting with the specified customer service personnel.
Give detailed and clear answers.
Customers don't need to read 10,000 words to understand your point. Most people would rather ignore it than figure out what you are trying to say. They will likely scan the highlights, save them for later and risk it not being read fully. Your message must be concise and straight to the point. It should be as clear in a few sentences as possible.
Customers don't like a response that is a universal answer. Your content should be interesting enough to grab the attention of the reader in just a few sentences. Also, always check your email and do not forget to tackle every single issue. If you cannot provide a clear answer immediately, provide specific steps that must be completed to arrive at a feasible solution.
Do a follow-up.
It is good practice to follow up on emails a few days later with a quick survey question. It allows you to sign off the issue as complete, or you can check how satisfied the customer is with the service. That way, you can verify directly what else you can do to help.
After leaving the trail open for more questions, it is important to check with the customer and provide them a better alternative or resolution for their issue. Whether the issue is a delayed package, a product outage, or a nasty experience with the service, reassure the customer that you've carried out the required steps to make sure this does not happen again.
For example, if the difficulty was that the product was delayed within the mail, follow up with them in three days to inform them they should've received the merchandise they ordered. Or,  check the tracking number and notify them that the product could be left in their mailbox or on their front step.
If the customer experienced a technical malfunction, get in touch with them to let them know that your team has completed working on the issue and resolving it.
Proofread & Check Everything
Nothing signals unprofessionalism quite a bad-written email, filled with grammar mistakes and typos. Always check that you have proof of your emails before sending them, to avoid overlooking the small details.
Use tools like Grammarly, and Ginger. These are free online tools that can assist you in improving and correcting your grammar. You also get to broaden your vocabulary and learn how to apply better phrasing to convey a variety of tones even through text-based communication.
If you would like to incorporate links in your email, check them to make sure they're not broken and that the page is working. The same goes for attachments. Make sure you include all the files you said are attached to the email and ensure there are no issues with the files.
Email is additionally easy to edit and forward. Keep in mind that sending a message to a minimum of one person can eventually be viewed by several other unintended parties. Double-check the recipient line before sending any email.
As a rule, it is best to never put anything in writing that an inexpensive person would consider as confidential or dangerous. If a customer concern requires that they divulge sensitive information, you can create a password that only the customer will know, such as their birth date, that they must input for them to open the email or document. You can also send a passcode to their mobile number to ensure no external parties have access to the email. 
Wrapping Up
Email has been proven to be one of the most widely used and most convenient channels for B2C communication. Everyone can write professional emails to customers. However, without a deeper understanding of what motivates your target audience, a well-crafted email can both create a positive impression or damage your brand. That is why it is very crucial to implement the practices enumerated above in your email support. It will help your company to improve brand image, increase customer satisfaction, and create a better relationship with your audience.
Outsourcing email support services to a professional service provider can help you efficiently tackle client issues and benefit from increased customer satisfaction. New Media Services, offers experienced, qualified, and trained email support professionals. They can help you gain prospective customers by providing accurate answers and resolving customer issues and queries. We can help you in saving costs while ensuring that your revenue increases at a stable rate.
Success is something you can't just give up. Learn how to implement effective email writing for customer service. Contact us today!