Customer-centric marketing is an effective approach that is geared towards customer demands and interests. Today, many entrepreneurs recognize the value that customers bring to their major achievements; thus, company-centric businesses have shifted to customer-focused businesses – these businesses constantly explore ways and means to further their marketing strategy to increase customer satisfaction.
The marketing strategy of companies that view customers as their greatest long-term investment concentrate on building and developing their products or services not merely to keep up with current and upcoming trends but also to suit customer needs; however, that is not the end point. There is one special element that takes a customer-focused marketing strategy to a whole new level – customer satisfaction through exceptional customer service. As a result, expanding companies have invested time and money into their favoured outsourcing company who provide excellent customer experience services.
It is worth noting that an outstanding customer service entails giving utmost effort when dealing with customers. Their questions and concerns must be addressed in a timely manner through customer service agents and supervisors; thus, every customer support service must be backed up by a competent escalation management system. Otherwise known as "incident management."
What is Escalation Management?
Escalation is the process of passing on calls from a support agent to more experienced and knowledgeable employees in the company, such as managers, supervisors, and even fellow agents – performing tenured employees are tapped by their supervisors to resolve issues of customers that the previous agent failed to address or settle. Calls may also be transferred to certain individuals in the company who are designated to the specific department involved in the customer's concern (e.g. IT personnel, billing personnel, etc.).
Managing escalations in customer service helps diminish the possibility of providing incorrect and insufficient solutions to customers or leaving the problem unresolved which may lead to customer frustration or dissatisfaction. 
Escalation management can be subdivided into 3-4 levels called 'tiers' to address customer queries based on the difficulty and nature of the problem. The higher the level of the tier, the more specific and complex the concern being addressed is.
There are also two types of escalations. One is functional escalation, where the endorsement of the problem is based on the skills and functions required to provide a specific solution. The other is hierarchical escalation, which involves notifying fellow support agents and supervisors of probable breaches of Service Level Agreement (SLA).
Service Level Agreement or SLA refers to a contract signed by two parties involved, the service provider and the client/s, that documents the type and level of services that the provider will deliver during the duration of the agreement.
Depending on the level of service and metrics that a client requested, the key components of SLA may vary; however, SLA normally include:
General overview

– This states the rudiments of the contract, concerned parties implementation date, and services' brief outline. 

Service description

– This includes a comprehensive description of each and every service agreed upon by both parties. The details must include tools or applications to be utilized, working timetable, and turnaround times.

Service delivery

– This contains metrics that will serve as a basis when assessing service level performance. 

Parties involved –

This consists of the specific responsibilities of each stakeholder involved.

Compensation

– This covers the method of payment in case that a provider is not able to meet client's requirements as stipulated in the contract.

Exceptions

– This specifies the services that are not part of the agreement.

Security

– This provides information about security control which a provider will execute prior and upon the start of partnership.

Termination procedure

– This comprises the information about terms and conditions when terminating the agreement or when it expires as well as the notice period.

Signatures

– This is the final and one of the most important, signatures of all concerned parties is a symbol of sealing the agreement.
Usually, hierarchical escalation paves the way to help determine which department is needed to help resolve the problem.
What are the 3 basic requirements of escalation management?

Incident management is not simply about transferring calls or customer concerns and then hoping to reach the right solutions at that precise moment. It entails specific and strategized steps along with:
In-depth knowledge of the product:

Supervisors or managers are expected to have extensive experience and therefore can provide the best possible solution or the accurate information. Even without face to face communication, customers would assume that a supervisor or manager is experienced enough to solve a problem. Thus, having sufficient expertise with a strong conviction is of great importance as customers expect immediate action to their problems or queries.

Patience:

Being calm when speaking with customers during an escalation would pacify angry or impatient customers who may not have time to stay on the phone for hours waiting for a solution.

Empathy:

Genuinely understanding what customers are going through would lead supervisors to act professionally thereby quickly identifying the real needs and wants of customers. 
These three factors better guarantee that the entire process of escalation will run smoothly and effectively.
Some might say that escalation should be used sparingly, as customers can get frustrated and exasperated being passed on to different people just to acquire a feasible answer to their concern. The truth is, escalation management also helps minimize instances of long call queues especially during peak hours.
The following are the key aspects that enable a reliable escalation management system:
1. Get employees and supervisors/managers to cooperate
Enforce a systematic process of corresponding to certain customer issues by having supervisors or managers to cooperate as they are the frontliners of every business. Their constructive collaboration would yield businesses to earn massive trust of their customers. Getting other departments, from IT, billing, sales and product development on board with customer support will likewise help support agents to turnover customers to the most suitable people for more intricate queries that include complex payment or billing, software issues, and such.
The involvement of each department in escalations should be clearly defined so that everyone has a clear idea of their accountability, and whenever there are new updates, the information should be disseminated across all departments. This eliminates confusion between customers and support staff when giving information or solutions. Likewise, the team will most likely work together more solidly if there is an understanding of how important the role and involvement of each department is.
2. Provide efficient customer support training
Talk time is very crucial in customer support. Customer service personnel need to exhibit excellent communication skills as this helps accurately pinpoint the gist of a customer's complaint. To achieve this, support agents should be provided with adequate training and coaching to help them be more assertive in resolving customer concerns.
Educate agents on the right way to keep customers engaged and maintain professionalism and politeness even when dealing with irate customers. Allow them to gain enough familiarity with the business' products and services, the policies involved in the development, distribution, and marketing of the services being offered, along with the limitations of responsibilities covered by the company.
More importantly, investing in honing the skills and knowledge of support agents empowers them and makes them more prepared to take on varying levels of client queries.
3. Keep a complete record of each escalated issue or account
Real-time monitoring and recording every instance of escalation will provide references to determine how efficiently customer concerns were handled. Previous call logs can be analyzed to review whether standard escalation procedures were followed or not. At present, there are innovations in escalation management such as live monitoring and voice analytics tailored to boost the efficiency of customer assistance.
Quality analysts (QAs) are responsible for listening to calls and determines if the following were met:
Was the call escalated to the appropriate department? 

How well was the problem assessed?

Was the customer satisfied with how their queries were answered? 
In the event that the criteria is not fulfilled, the QAs will have to inform the individual how the call could have been dealt with better through constructive feedback. One of the rules that QAs follow when providing their feedback about a call is 'sandwich feedback' – PNP (Positive, Negative, Positive). Sandwich feedback starts with the factors that made the call great such as cheerful attitude, empathy statements and offering solutions among others. Thereafter, they explain what the staff should have not and should have done.
Examples of the things that the staff should have not done:
Being impatient

Giving the runaround

Not exhausting all the possible resources

Providing incorrect information

Long average call duration
Examples of the steps that the staff should have done:
Empathizing with the customer

Checking of database when giving out of information to ensure its accuracy

Offering optimum solution at the quickest possible time to avoid long call duration

Upselling – It is not advisable to offer upgrades or more expensive products or services, but when customers are happy or sound satisfied, it is a good chance to inform them about better products or services.

Documentation – Proper documentation of every escalation that took place will enable business owners to generate metrics and determine how else support services can be enhanced to provide better assistance.
Following the positive and negative feedback is the final positive feedback that demonstrates the points that the support agent or supervisor needs to keep and needs to develop. It is important, however, that only those real compliments should be communicated. Superficial compliments may lead support agents or supervisors to doubt its authenticity.
To escalate, or not to escalate?
Some might regard escalation as a negative indication for providing customer service. Unless a company receives multiple escalations on a regular basis, escalations should not automatically be linked to bad service or incompetence among its support agents.
There are customer concerns that are very specific and therefore need the intervention and/or assistance of other departments and service-related experts in the company.
But, if it does so happen that the support agents at the 1st tier of the escalation seem to be experiencing challenges handling and resolving customer concerns, then this is the perfect time to provide further training and assessment to enhance the skills of the agents.
Providing better and more competent escalation management service

Customer satisfaction is becoming a vital and determining factor for brand success as a result of the growing convenience and versatility of technology and social media. While the ideal customer service scenario is to prevent as many escalations as possible from taking place, taking essential steps towards making escalation management systems more competent and efficient is also worth the company's time and effort.
Setting up escalations to fit the 2020 market means applying the simple steps below:
Create and establish an escalation model that will be understood, recognized and adhered to by the customer support department and all other departments involved. The escalation model should enumerate the contact points and procedures for each tier.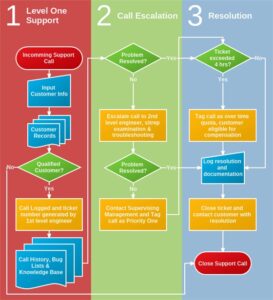 Always take note of the collected data or information for every client query. This will be helpful when reviewing and analyzing the circumstances and issues raised by the customer.

Aside from citing all the gathered information relevant to the problem, see to it that the escalation remains focused on the issue. Provide the necessary background and facts while sharing possible steps that can be taken to help resolve the matter.

Keep complete documentation of the entire escalation management process for future references.

As often as possible, try to settle the problem at the

second level of escalation

. If that is not possible or achievable, give customers the conviction that a suitable solution or conclusion will be given once the matter is transferred to a higher tier, but before transferring the call, inform the next tier the severity level of the case so that when the call is passed on to the next appropriate personnel, he or she does not need to ask too much information from the customer. 
How important is an escalation in customer support?
Ideally, the less escalation made, the more efficient a support system is. However, it would still be very beneficial to prepare an elaborate and systematic process that helps a business' help desk handle even the most crucial and sensitive customer concerns. Escalation is an effective method of returning the trust and support of dissatisfied or disappointed customers.
Additionally, escalation bridges the gap between the business and the customers. While faith and confidence are restored, it also gives the customers a new impression of the business. With a positive impression of the business, customers will be 100% confident to recommend their products or services to their friends and family. Most importantly, it will make them feel valued; thus, they stay perpetually.
Are you looking for ways on how to deliver better customer service escalations? Are you interested to know more about how it impacts your business as a whole? Subscribe to our blog page now or get in touch with us!